Hi Friends. Thanks for stopping by! Before we get started, just a quick reminder to ENTER THE GIVEAWAY FOR A FABULOUS HIGH HEEL PLANTER!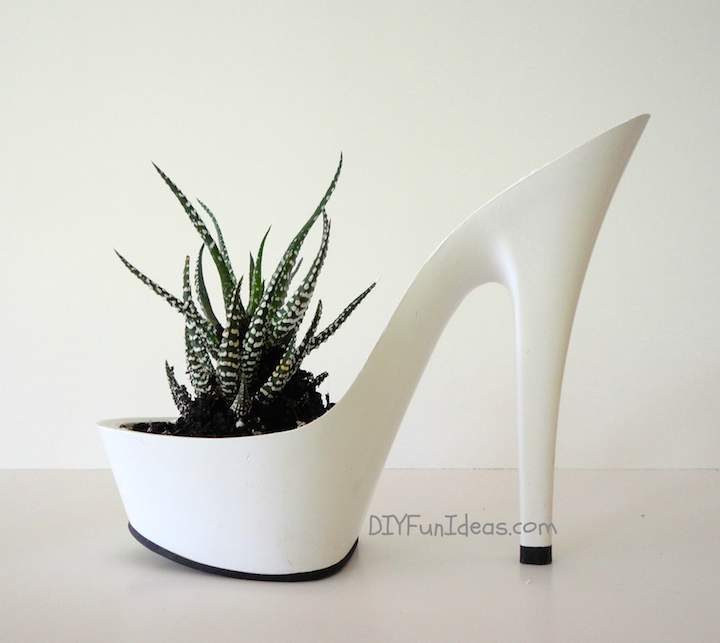 To enter, just sign up for email alerts in the right margin and forward your Feedburner confirmation to me at [email protected] Done. If you already subscribe, then just forward your email address and I will enter you! Giveaway ends June 15, 2014 at 11:59 EST. Random winner announced June 16, 2014. Good luck!!!
When I started writing this post, it was called "Get Back Up On Your Sawhorse When Your DIY Fails." But after a few minutes of writing, I decided to change it to "…When You Fail." You may be wondering what that has to do with anything DIY. Well, I started out writing about the DIY fail I had earlier today, which I'll show you in a minute, but then I started to think that getting back on that horse is a lesson that is far more reaching than one's home improvement skills. It particularly makes me think of a member of my family who tends to always give up at the first road block. Instead of saying: "okay, I see what happened, I see the lesson from the experience and moving forward I'm going to integrate that lesson in my strategy so I can do better next time," she simply says, "I can't do it" or "I can't do it because nobody every showed me how." I don't know why she gives up so easily. Nobody ever showed most of us "how" for a lot of things in life. We simply learned by trial and error and by always getting back up on that [saw]horse when things don't go as planned. Anyway, I suppose my point from all this is to not let set backs stop you from trying something new. Instead, learn from your experiences, especially the ones that don't go as planned. And always get back up on that [saw]horse. Okay, enough lecturing from me. Onto the DIY that didn't…
Remember the DIY Concrete Planter Hands tutorial from a few weeks ago? I totally love them and ever since making them, I've been wanting to try another concrete project.
This morning I had a "brilliant" idea for my next concrete project and couldn't wait to get to it. (Notice the quotes around "brilliant.") I had seen something on pinterest a while back of a piece of textured art where the canvas was folded onto itself giving it a look of fluidity. So I thought I'd try something like that. I could use some sort of fabric to create the look. I found some scraps of a heavy lace material in my mom's sewing stuff which I thought would be a perfect medium to hold the concrete.
So I mixed up a small batch of cement, dipped the lace in, mixing it around to make sure it was completely covered in the cement. Then I draped the cement covered lace over a small cardboard box and covered it with plastic wrap to keep moist while it dried. I thought perhaps it would make an interesting planter.
This is my dried concrete and lace "planter."
I'm not sure if you can tell from the picture, but it just looked to me like a sloppy mess. I definitely didn't like it for a planter. So I looked at it for a little while trying to figure out if there was something else I could do with it. I thought perhaps a lamp shade??
I ran down to the hardware store and picked up one of those little lantern kits for $12.00, drilled a hole in the top and hung the thing up.
Nope. Still not doing it for me. It just looked like a dirty rag covered in caked on dried up mud… the way my old Subaru used to get all covered in mud after a weekend of mountain biking and camping in the desserts of Southern Utah.
I tried turning the room light off and turning the lamp light on. It was slightly better, but the dirty caked-on mud covered rag was still sticking with me.
So I think I'm going to have to let this one go. This is the part where I say, "if at first you don't succeed, try, try again" or "when you fall, get right back up on that [saw]horse." I am still intrigued with the possibilities for using fabric and concrete to create something unique, but I'll have to continue thinking about how to best use the technique so that it doesn't look like a muddy rag. In the meantime, there are some other concrete ideas that I have in mind, so stay tuned for those. And I really do mean it when I say: if at first you don't succeed, try, try again because if you quit, well then there is no possibility of success, is there?
Cheers my friends,
Jenise
This post linked to some of these wonderful blogs and here.