Hi friends! Thanks for stopping by. I'm finally ready to reveal the updates I've made to my parents' guest room. But just a few announcements before we get started…
I recently posted a tutorial on How To Faux Silver Leaf Using Paint. I used that faux silver leaf technique on the closet doors in my parents' guest room to create a feature wall focal point. The whole thing was sort of an experiment and I wasn't sure how it would turn out. Luckily, I ended up loving the result.
This is what the room looked like before the faux silver leaf, with the ugly brown hollow doors.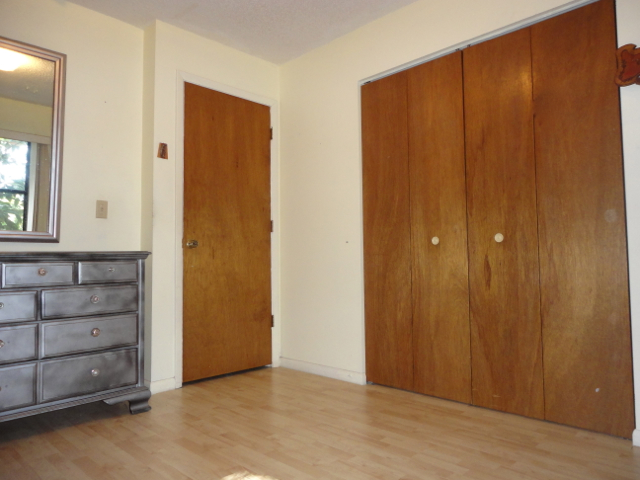 Here are the doors after the treatment…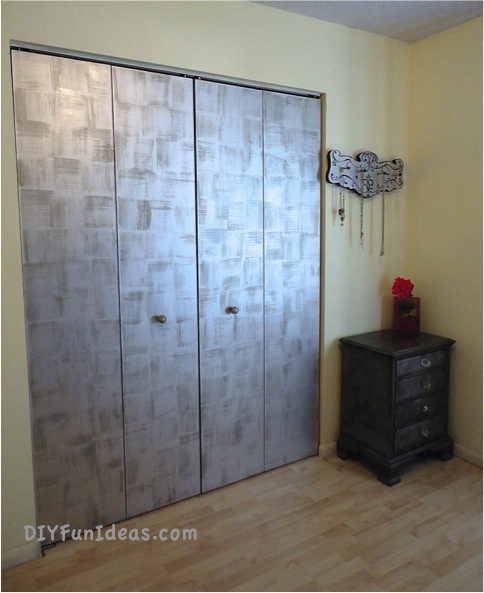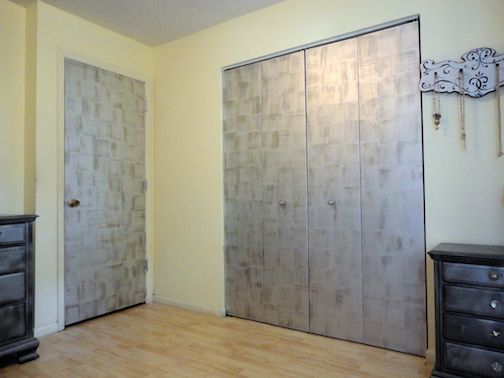 I thought they were pretty fantastic, but the wall color was really bringing the whole look down. Before I started the silver, I knew I wanted to paint the walls, but I had no idea what color to paint. I hate picking paint color. I think it's one of the hardest parts of decorating. When I painted my parents' dining room, I knew I wanted grey (that was me being adventurous). But there were so many shades of grey. I tried six different paint samples!! One was too pink, another was too blue, another was too peach, etc. Then add on top of that that the colors look completely different in different lighting. The color that was too pink was perfect in the morning, but at night is was, well, just too pink! This is why I HATE picking paint colors.
So after finishing the doors, I posted a picture both on Hometalk and on my Facebook page and asked for input on wall color. I got a ton of feedback, including someone telling me that nothing was going to help those silver doors. (That person can suck it.) But I was definitely thankful for all the wonderful suggestions. There were so many ideas I would not have thought of like lavender, chocolate, teal, purple, and even suggestions all the way down to the brand and paint color name.
Well, I picked up paint chips for just about every color suggestion. Then decided to go with something in the blue family.
I went back to the store and picked up paint chips in every shade of blue. I was thinking of going with a teal, but wanted to cover all my bases in case there was something fantastic which I might not have considered.
The colors with the arrows were my first choices…
I tried a color called Jewel…
Way too dark. Then I tried three more colors!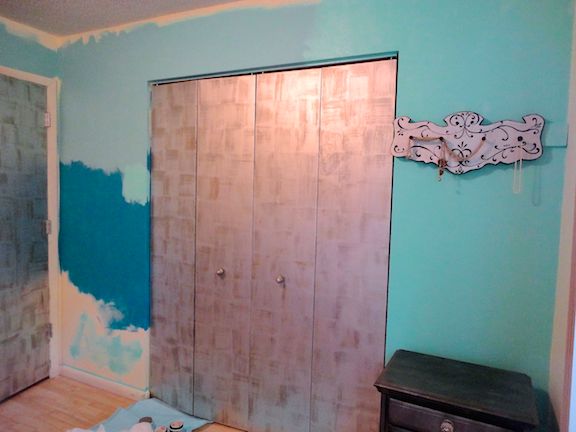 A friend suggested the brand color from Tiffany.com. So I went to Home Depot to try to match the color. It didn't work and from that experience I ended up writing the post What I Learned About Paint Color Matching.
I did, however, find a color that was pretty close to the Tiffany color. It's called Pantone Beach Glass from Valspar. So I picked up one more sample and luckily it turned out to be my last…almost.
I LOVED the color! In the natural light during the day, it was amazing. At night it was still very flattering to the silver doors, but it seemed like a little too much to do the entire room that color. It was, perhaps, a little too dark or too rich. That's the best way I can describe it.
I still loved the color so I figured I could keep the Beach Glass color around the doors and then do a lighter color in the rest of the room. So I headed back to the store and asked for a sample with only 50% of the pigment added. I tried that and it was better, but not perfect. So I made another trip to the store for 25% pigment. You can see the different pigment shades here…
(That's my DIY Jewelry Organizer hanging there that I upcycled from an old coat rack.)
The 25% pigment was perfect. So away I went painting my little heart out.
Before finishing the room, I added one more faux paint feature. If you noticed in the before picture, there was no trim around the closet doors. That kind of bothered me. But before I went out to buy trim, I thought I'd try another faux treatment: faux trim using paint!
I taped off 4 inches around the doors and painted in the trim…
Now, remember the before picture?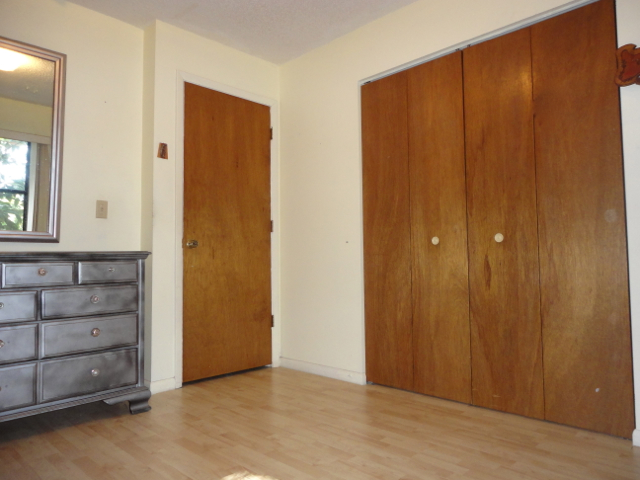 Here is the after!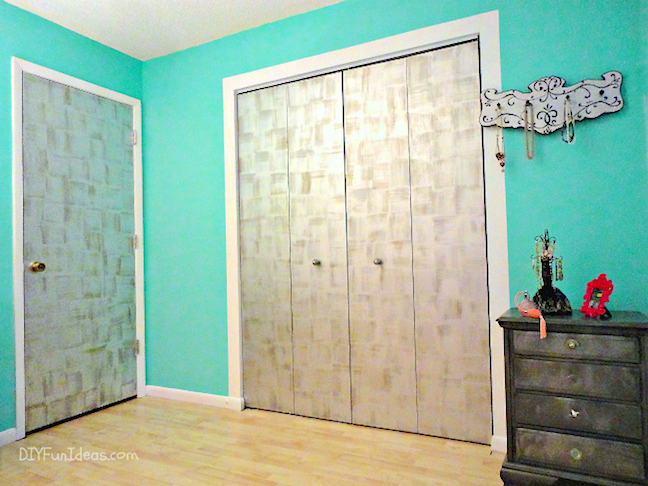 Yes, I need to hang a few pictures, don't I?
Now, you may have noticed that I've only showed you one side of the room. That's because an element of the other side still needs some work. It's the bed. Right now the other side of the room consists of a red-colored bunk bed and an old scratched up wood stained side table. You know what that means?! I get to flex my DIY creativity some more.
My plan is to convert the bunk bed into a single and paint it. As for the side table, it's sort of French style with curvy legs and curved feet. I think I can do something fantastic with it, but again I'm struggling with the right color and treatment. I don't think the room can handle too much more silver, so if you have any thoughts on what would complement the rest of the room, please let me know.
Thank you for stopping by and don't forget to ENTER THE HIGH HEEL PLANTER GIVEAWAY!
Cheers!
Jenise
This post linked to some of these wonderful blogs and here.