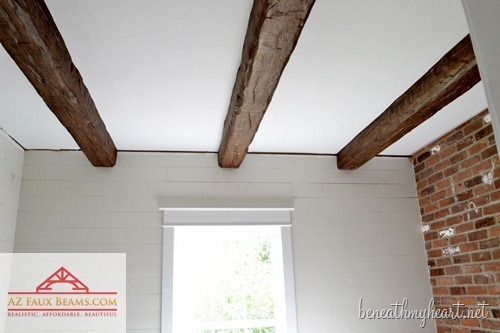 If this is your first visit, please 'Like' us on facebook and SHARE THIS PAGE with your fb friends so you don't miss out on daily DIY ideas & inspirations!

When decorating our homes we often spend a ton of time planning paint colors, rethinking and refinishing furniture, and installing new floors. But what about the ceiling. Few folks ever think about the ceiling other than what shade of white to apply. Well it's high time ("high time"…who says that??) to start thinking about your ceilings. A beautiful ceiling can add a whole new dimension to the look and comfort of your home. And one wonderful ceiling idea is adding heavy timber wood beams. But who can afford that? Well, now you can with faux timber wood beams
. Faux beams are moving more into the mainstream. The beauty of these faux beams is that they look like real wood, are super light, surprisingly easy to install, and are a fraction of the cost of real timber. Plus, you'll save a tree or ten.
The folks at beneathmyheart.com installed faux exposed wood beams in their home and they look spectacular. Follow the link for full tutorial, along with a short video how-to. You won't believe how easy.
And don't forget to

follow and share

DIY Fun Ideas here on our facebook page

so we can continue bringing you fun & fabulous DIY ideas and inspirations!



Cheers!
~ Jenise