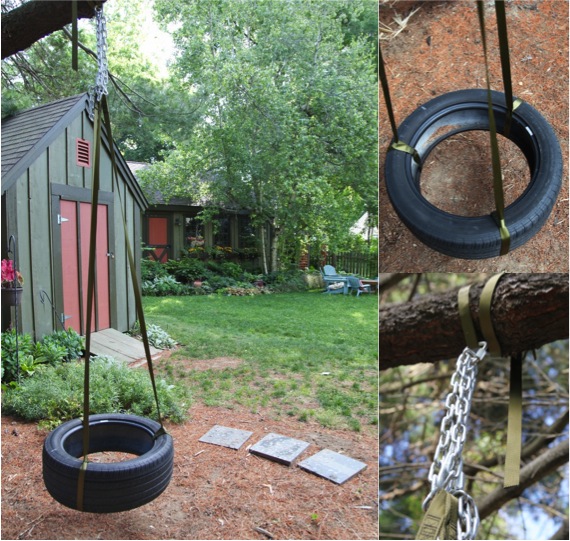 If this is your first visit, please FOLLOW ON PINTEREST so you don't miss out on daily DIY ideas & inspirations!

Yesterday I showed you how to build yourself a swinging pallet bed for your yard. That was for the adults. Today, I've got the perfect swing for the kids. And yes, the kid inside you counts too cause who wouldn't want this wonderful tire swing hanging out in their back yard?
Most tire swings only hang from chains. What I really like about this swing is that it uses webbing
 instead of chains so you don't have to worry about the chain pinching your fingers (hate when that happens). And webbing is ridiculously strong so no worries about it holding up (depending on the weather conditions where you live, I would recommend a quick once over after it's been in the elements for a season).
The owner of this swing used a tire swing kit
 to hang it. But you don't need to buy a kit. If you know how to make a good knot (here's a quick and easy knot tutorial) then you can do this on your own with an old tire, a small chain to attach to the tree, some webbing and a few locking carabiners
. For full details on how the owner of this swing put it together, follow the link below and you'll be able to officially call yourself a swinger…
And don't forget to FOLLOW ON PINTEREST

 

so we can continue bringing you fun & fabulous DIY ideas and inspirations!



Cheers!
~ Jenise