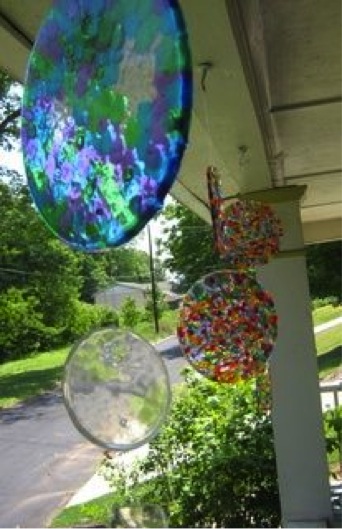 DON'T MISS OUT!!! ONLY 7 MORE DAYS TO ENTER for a chance to win one of TWO FREE Dremel Kits, the must have DIY tool!

DETAILS HERE.
Imagine these beautiful sun catchers hanging on your front porch catching the morning light and refracting a stream of colors. Well, you don't have to imagine anymore. These beautiful sun catchers are so easy to create. You can make large ones, hanging them individually, or smaller ones and hang them close together to create a wind chime. Smaller ones can also be used as coasters. Keep reading for the RIDICULOUSLY EASY directions…
Ridiculously Easy Sun Catcher Directions:
Supplies:
-Plastic Pony Beads

-Large cake pan or tin pan
Directions:
1. Preheat oven to 375 degrees.
2. Arrange one layer of beads in pan (you can make a random design or arrange colors to create a specific shape, letter, etc.)
3. Put pan into oven, careful not to let your beads move around in the pan.
4. Bake until your piece is at your desired consistency (usually 20-30 minutes).  The longer you bake, the flatter your piece will become as the beads melt down.
5. Remove from oven and allow to thoroughly cool.
6. Gently flip the pan over and the piece will release from the pan.
7. Drill a hole close to the edge of the disk. Tie a string through and hang your lovely sun catcher on a porch, in a window, or wherever you'd like to add that spark of color.
If you are concerned about the plastic giving off fumes when baking, then I suggest melting the beads in an outdoor barbecue grill, one where you can control the cooking temperature. That way you'll have all the ventilation you need.
Ridiculously Easy Coaster & Wind Chime Directions:
Supplies:
-Plastic Pony Beads

-Several ceramic mugs (one for each coaster you plan to make)
Directions:
1. Preheat oven to 375 degrees.
2. Stack beads 2 or 3 high in the mugs.
3. Place in oven.
4. Bake 30-60 minutes to desired consistency. The more layers in the mugs, the longer it will take to melt them.
5. Remove from oven and allow to thoroughly cool.
6. Flip mugs over to pop out coasters.
7. If you wish to use your coasters to create a wind chime, simply drill a hole near the edge and string them up close together at varying lengths.
And there you have it. One note though, be prepared to open a window because the process will smell like melting plastic. Now enjoy your new sun catchers, coasters, and wind chimes and share your new melted bead creations here on our facebook page.
Cheers!
~ Jenise
p.s. Don't forget to ENTER YOUR EMAIL ADDRESS ON THE RIGHT for all the new fun ideas! Then FOLLOW ON PINTEREST & PIN THIS PAGE so you'll always find it. You can Like us on Facebook too! Then stay tuned for more fun & fabulous DIY ideas and inspirations!
(Secret: There's some exclusive content on that thar facebook page…sshhh!…okay, I guess I just ruined the secret.)