Never lose track of this project! PIN IT and 'Like' it on facebook so you'll always find it.

Bringing natural wood elements into a home creates the feel of calm and warmth in your private space. Additionally, what is often so wonderful about adding raw wood elements, like this beautiful wood vase, is that each natural wood piece has a form that is unique. That's something only nature can do.
This beautiful wood vase is the work of Brittney and Zach over at Fun With The Fullwoods blog. Brittany had fallen in love with these wood vases from Pottery Barn and West Elm…
But didn't want to pay a few hundred dollars for a vase (I wouldn't, either), especially when you can do it yourself. So Brittany put her hubby to work. (I always love the way that works out.) And Zach did a terrific job. As a matter of fact, I like his vase a lot better than either of the retail inspirations. He had a good eye for picking a log piece with such beautiful curvature, which really enhanced the beauty of the final result. So, right about now you're saying, "so how'd they do it?" Well, if you more on how "they," i.e. Zach (LOL), created this lovely work of art, check out the full tutorial here at Fun with the Fullwoods blog.
For a bunch more ideas on bringing natural wood elements into the home, check out How To Decorate With Beautiful Natural Branches…
And here's a cool tutorial on How To Make A Tree Stump Side Table…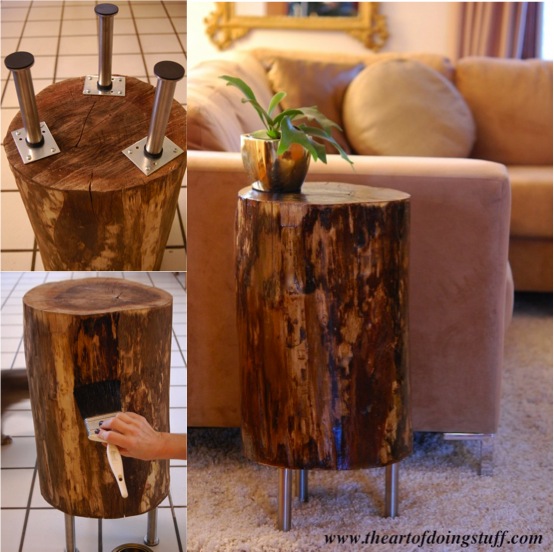 Cheers!
~ Jenise
p.s. Always find this project by pinning it & liking on facebook. Then stay tuned for more fun & fabulous DIY ideas and inspirations!
(Secret: There's some exclusive content on that thar facebook page…sshhh!…okay, I guess I just ruined the secret.)