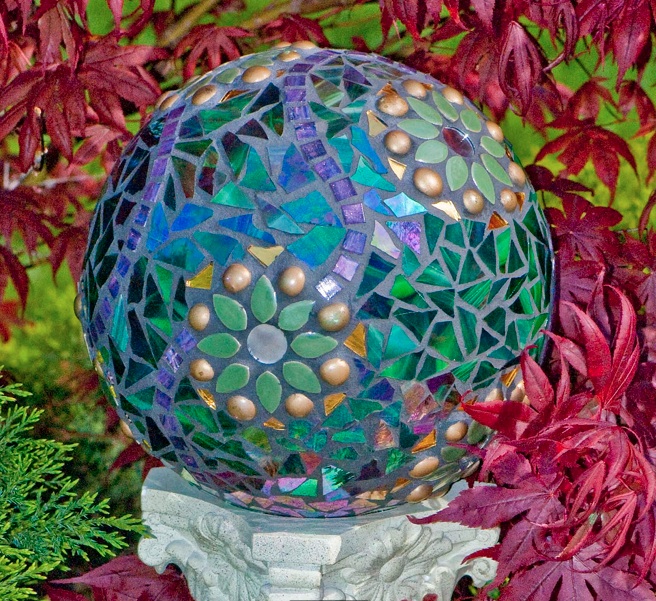 If this is your first visit, please 'Like' us on facebook so you don't miss out on daily DIY ideas and inspirations! And please don't forget to share this page with your friends. :-)
Mosaics are surprisingly easy to make. All you need is cut glass or ceramic tiles, adhesive, grout, sealer, and a wonderful imagination. And if you're on this page then you already have the wonderful imagination. You can get pre-cut mosaic tiles
 at any hobby store such Michaels, Hobby Lobby, etc. You can also use old dishes and break them up or get a few tiles from a hardware store and break them up. What I'm trying to say is that barriers to mosaic greatness are minimal. I should know. I made a few garden stepping stone mosaics a few years ago. Unfortunately for me, I expect they're still planted in the ground at my first home.
The garden mosaic ball is simply an bowling ball
that's been tiled. Anyone can do it. And you know you can pick up an old bowling ball at any thrift store for just a few bucks.Take a look at the following tutorial to see how easy it is to make mosaics: How To Mosaic: Art For Your Garden.
Most tutorials instruct you to use mortar to adhere the mosaic pieces to your surface. I've always used a craft adhesive like this
. I like it because it's waterproof, adheres to any surface, and easy because you just dab the adhesive onto the back of your tile and them stick the tile to your surface.
Grout can be picked up at any home improvement store and comes in an array of colors so no need to stick with boring white. And if you're looking to learn more techniques in making mosaics, the Encyclopedia Of Mosaic Techniques
 is a great resource.
There you have it. You've got everything you need to start your mosaic geniusness.
And don't forget to

follow and share

DIY Fun Ideas here on our facebook page

so we can continue bringing you fun & fabulous DIY ideas and inspirations!



Cheers!
~ Jenise