I had been thinking about making a concrete picture frame for some time now and I finally got around to making one this past weekend. I was planning on cutting up some melamine board to create the form for the frame, but since I do all my cutting outside and it was a hundred million degrees out and a bazillion percent humidity, I just couldn't get myself out of the wonderful air-conditioning. Ugh. There had to be an easier way.
Then I had a stroke of genius. I could use a cereal box for the form. I rushed over to the kitchen and pulled out five cereal boxes, but I couldn't find one that didn't have any creases. The problem with creases is that they'll show up on the final product. Total bummer.
With no luck in the kitchen, I decided to run down to my nearest craft store in search of a good option to make my form. My problem with the craft store, though, is that even after the countless times I've roamed the aisles, on every visit I still have to walk through every single aisle and look at everything…you know, in case inspiration strikes. So I can't get out of the store for a good hour and a half. Poor me, huh.
Luckily, I did find something that would make creating my form super easy. (I love super easy.) I picked up a sheet of foam core board and a craft knife for precision cuts.
My plan for the concrete picture frame included adding some kind of inlay. I was thinking of using some some fur tree branches, but during my little expedition roaming the craft store aisles, I came across little foam stickers! Brilliant! And the foam stickers come in all shapes and sizes. I decided to go with the flower shapes.
So my biggest lesson learned during this project is that an hour and a half in the craft stores is worth every second! Right?
Anyway, I got home with my supplies and got at it, along with my little helper, Lily. (She's just supervising.)
Supply List:
Here are the materials you'll need:
– Foam core board
– Craft knife
– Foam stickers
– Self-healing cutting mat (optional)
– Packing tape
– Double-sided tape
– Caulk
– Oil lubricant
– Rapid Set® Cement All®
– Water
– Trowel
– Hanging hardware
– Your favorite photo
Directions:
Step 1: I decided I wanted my frame to be 12″ x 12″ with a 5″ x 5″ window for the photo. So I marked my board and made my cuts.
(Yes, there are tables in my home. I just always gravitate to spreading out on the floor.)
I recommend cutting over a self healing cutting mat so that you don't accidentally cut into your floor/table/etc. They're not expensive at all, but if you don't have one available, to protect your surface you can also try placing your foam board over a heavy piece of corragated cardboard before cutting.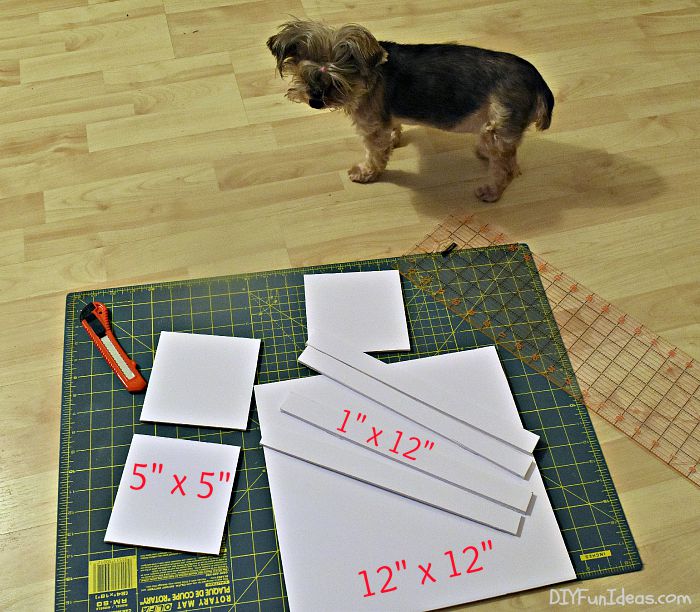 My board cuts consisted of:
One 12″ x 12″
Three 5″ x 5″  (for the photo window)
Four 1″ x 12″  (for the sides)
Step 2: Once I got everything cut, I used packing tape to attach the sides to the central part of the frame form.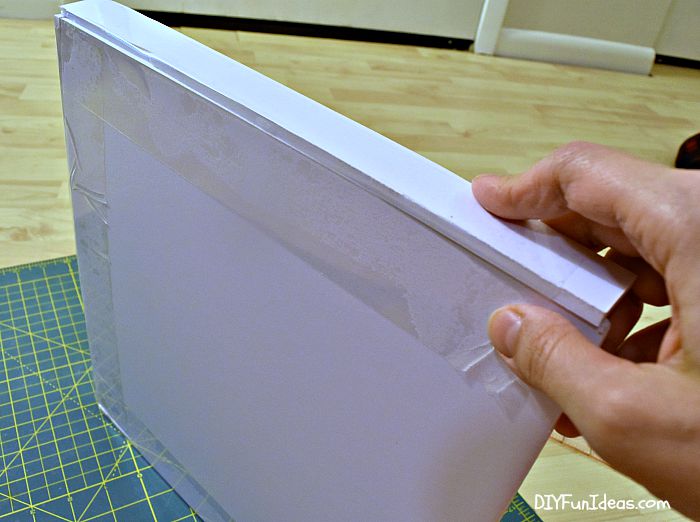 Step 3: For the photo window, I taped the three 5″ x 5″ pieces together and used double sided tape to adhere them to the main form.
Step 4: Next run a bead of caulk along each joint and smooth with your finger.
Tip 1: I recommend using colored caulk so you can easily tell if your caulk line is smooth. Any unevenness in your caulk line will show up on the final product.
Tip 2: Sometimes I have a little trouble getting a perfectly smooth caulk line, so after I smooth it with my finger, I dab a little mineral spirits on a paper towel and gently run that over the line to remove any excess.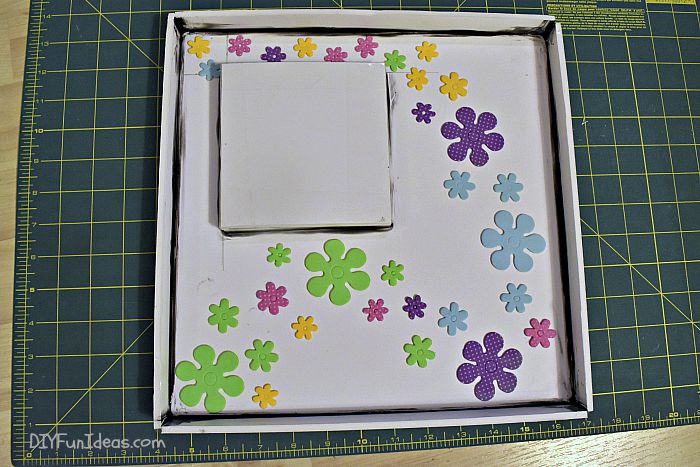 Step 5: Adhere your foam stickers.
Step 6: Mix up your Rapid Set® Cement All®. To mix, add water to your container first, then add the Cement All®. For my frame size, I used 7 cups of Cement All® and mixed in enough water to achieve a thick pancake batter consistency.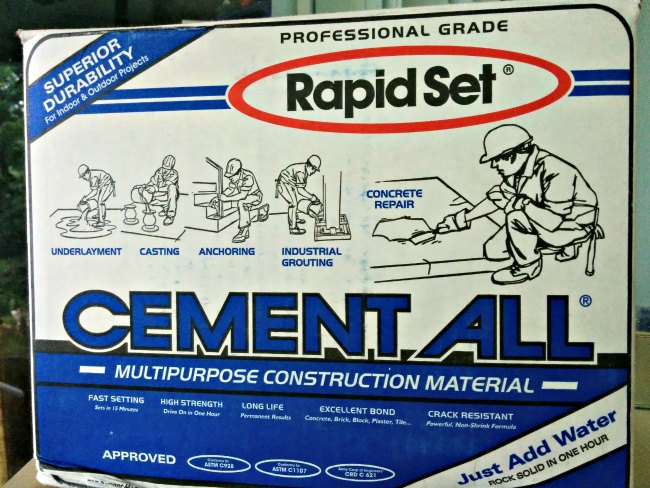 Step 7: Spray the form with an oil lubricant for easy release later. I used a WD-40 type lubricant.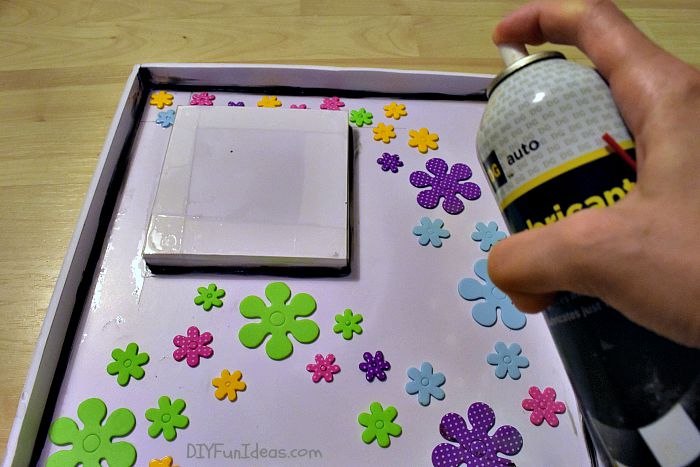 Step 8: Pour your concrete, making sure to get it into all the corners.
Step 9: Once your form is filled, shake it a little from side to side to help the concrete settle into all the crevices. Then smooth the top over with a trowel.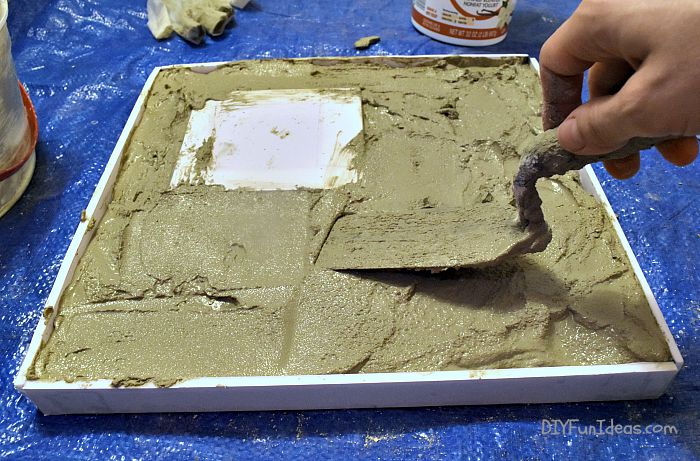 Step 10: Insert two eyelet screws (or other hanging hardware) into the wet concrete near the top of the frame. The hardware will be locked into the concrete when dry and you can then run a wire through.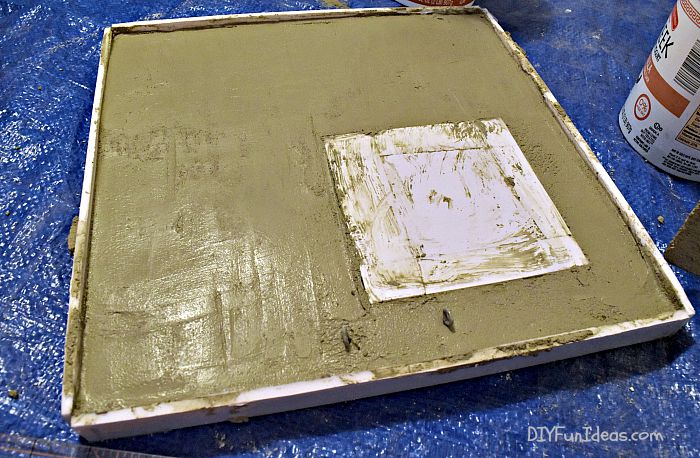 Step 11: Once the concrete is dry (1-2 hours), peel off the sides of your form board and then use your blade to cut around the photo window. Then pop out the window.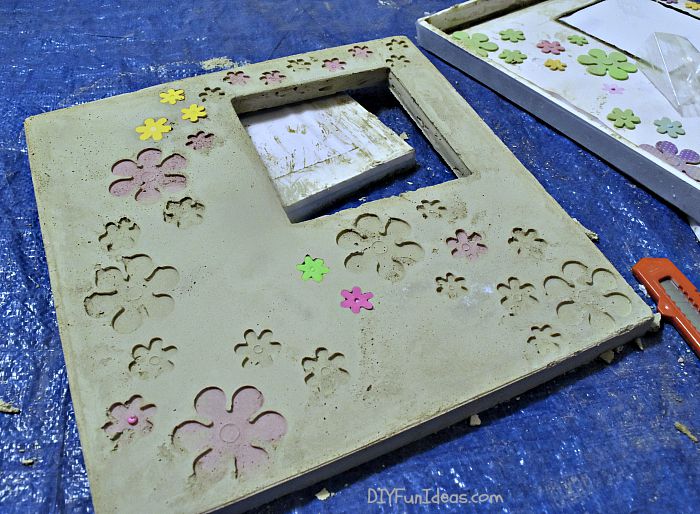 Remove any remaining foam stickers.
Step 12: Finally, paint the inlayed areas.
Yes, I painted my flowers with nail polish.  :-)
I wanted shiny enameled looking flowers. I thought that would look cool along side the industrial concrete look.
I was going to head back to the craft store to pick up some enamel paints, but you already know my craft store problem. Then I thought, "hmm, nail polish!"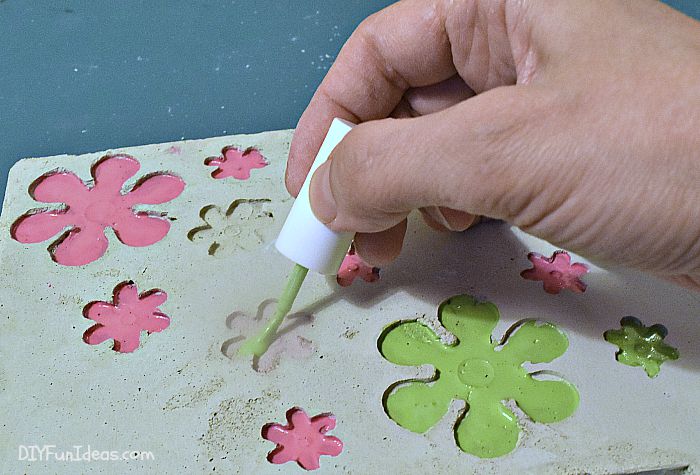 Once I got everything painted, it was time to pick a photo. And who better to feature in my new DIY concrete photo frame than my little monster angel? But I was torn between super cute and ridiculous…
I picked ridiculous.  (Sorry Lily.)
And here's my little sweetheart in her brand new DIY concrete photo frame…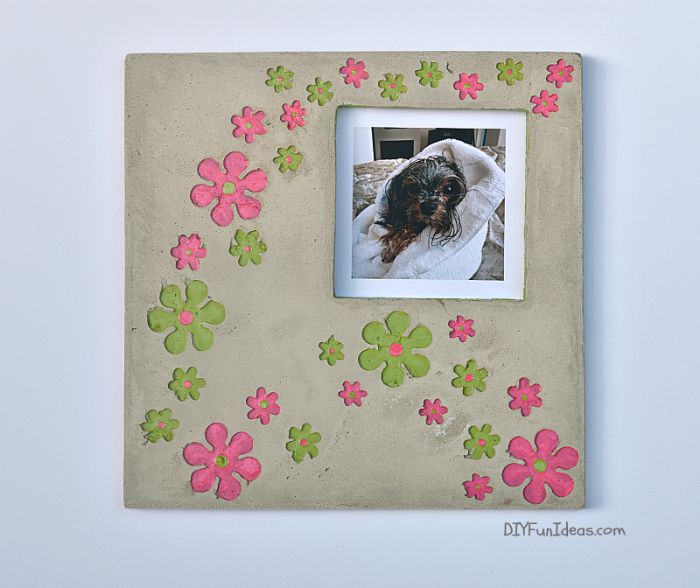 I even painted the inside of the photo window.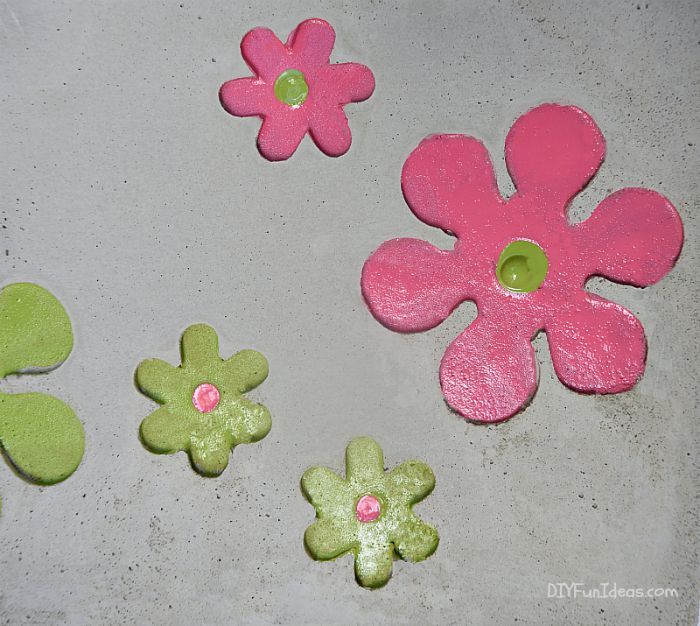 So there ya go, easy DIY concrete photo frame!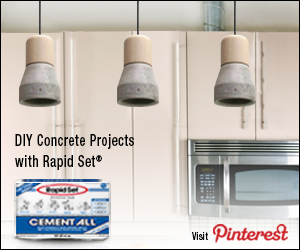 Are you addicted to concrete yet? Then check out these fun DIY concrete projects…

This post linked to some of these totally fabulous blogs and Remodelaholic.