Hi friends! Guess what I just did? I just installed a new mailbox at Mom & Pop's place. Why did they need a new mailbox? Two reasons. The first is obvious. Take a look at the old one…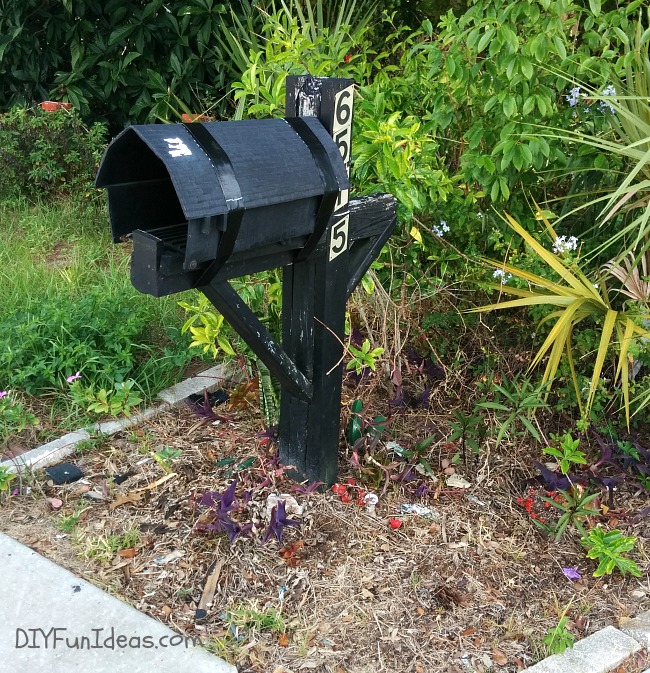 Need I say more? And yes, that is duct tape holding the thing together. The mailbox got knocked off the post earlier this year during a storm. So I took the easy way out. Duct tape.
The second reason for getting a new mailbox is that we recently had some mail go missing. Actually, it was a cell phone that was supposedly delivered, but never received. So to make sure nothing like that ever happens again, I searched and searched for a locking mailbox. At first I was disappointed with the ugly boxes I was finding, until I came across "The Geneva" from Architectural Mailboxes.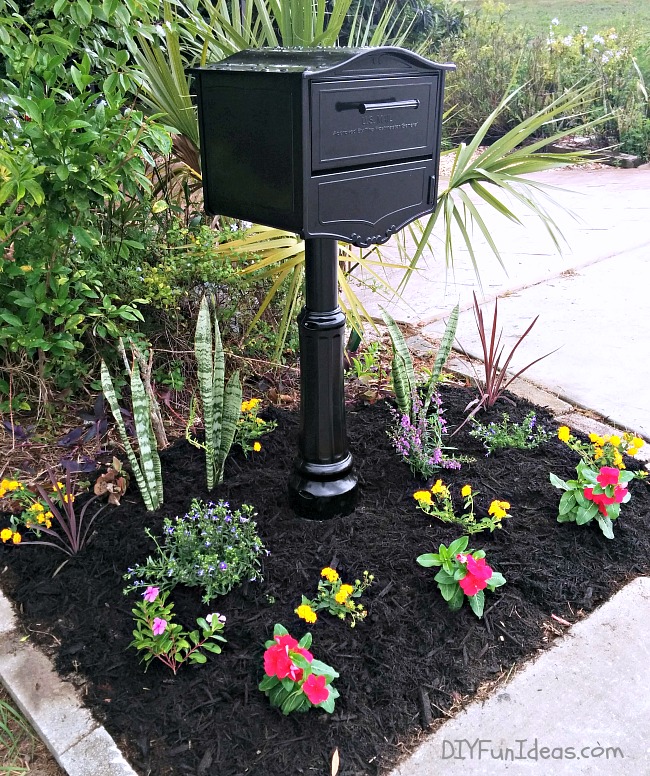 Ain't it pretty? Once the mail goes in, it's only accessible from the locking rear panel. So yay! No more mail disappearing. Oh, and did I say it was pretty?
So let's get down to business and learn how to install a new mailbox!
By the way, if you are going to be installing a fence, you can use these same instructions to install your fence posts too.
Now on with the show…
First, before you start digging anywhere in your yard, please reach out to your local utilities and have them mark any areas where utility lines run. There's no cost involved and you'll ensure everyone's safety by not hitting any gas, electric, or water lines.
Once that's done and you've picked the spot for your new mailbox, start digging. In my case, I had to dig up the old mailbox. But if you're digging a new hole there's a tool called a post hole digger
 that makes it super easy to dig the perfect sized hole. You basically push the post hole digger into the ground, twist, and pull it out and you've got your perfect sized hole. And here's another tip, whether you're digging out your old post or digging a new one, if your soil is tightly packed and too hard to dig, simply moisten the soil and that should soften it up and solve your problem.
The U.S. Postal Service has specific guidelines for installing a mailbox. It needs to be 6″ to 8″ back from the curb. Mine is actually a little further back because there is a water line running right in front of it. So this is as close to the curb as it can possibly get. Also, the height of the post from the ground to the bottom of the mailbox should be between 41″ to 45″. To make sure I got the correct height, I placed two tape markers on my post so I could easily see the height when placed in the ground.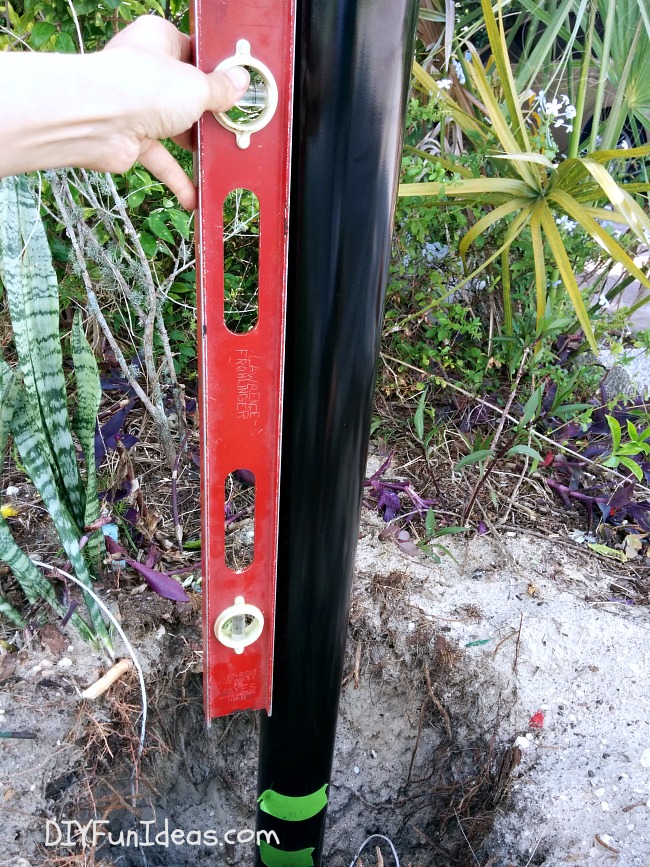 Once you're hole is dug, place the new post in it and give it a little push into the soil so it'll stand by itself. Then use a level to make sure it's straight.
Most of the homes in my parents' neighborhood have mailboxes by the curb and I can't begin to tell you how many are leaned to one side or the other. It kinda drives me crazy. So make sure everything is level.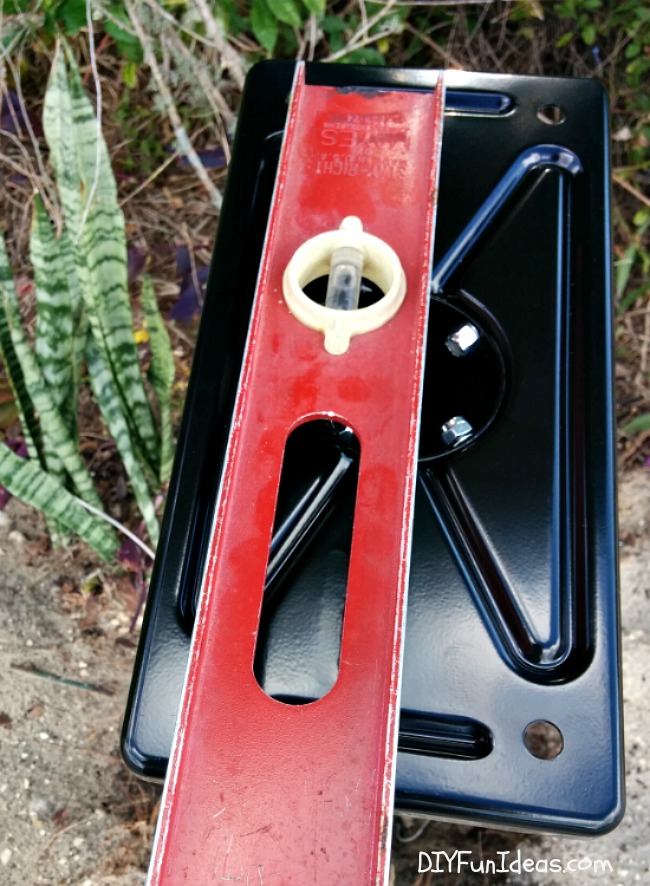 And if you don't own a level, here's a great trick: Tie a rock to a string and hang it from the top of your post, like so…
Thanks to gravity, the string will hang in a perfectly vertical line. So if your pole doesn't line up with the string, you'll know you need to do some adjusting.
Here's what a vertical post looks like using the string method…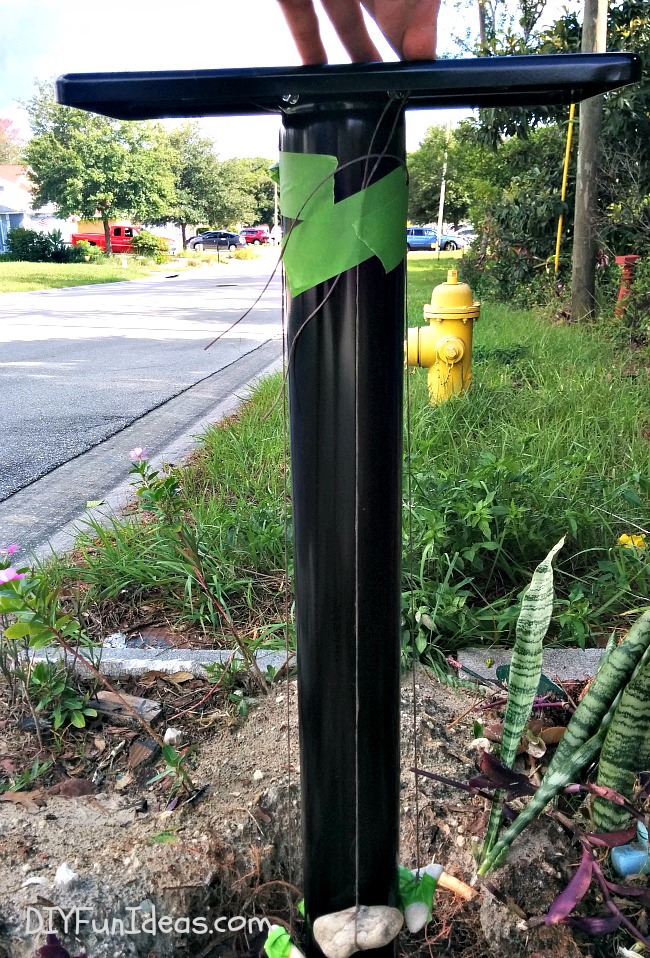 I actually like using the string method better that using a level because it's so easy for the post to slip slightly out of alignment and any shift in the post is immediately visible with this method.
Next step is to mix up your concrete. I used Rapid Set® Concrete Mix. I like this mix because it's a really fast setting concrete. The big benefit of using Rapid Set® versus traditional Portland concrete is that Portland concrete will take several hours to set and if your post ends up leaning at all during that time you'll end up with a noticeably crooked post and there will be nothing you can do about it. Rapid Set sets in about 15 minutes and once it's set, you're done. No need to worry about any shifting after that.
Before you mix your concrete, make sure you have everything ready to go because, as I mentioned, this stuff sets fast. If you think you'll need some extra time, you can always add some Rapid Set® Set Control® to the water before you mix. This will slow down the setting time. Also, using cold water versus warm water will also give you a little extra time.
Next, it's time to mix up your concrete. The directions call for 3.5 to 4.5 quarts of water per 60 lb bag. I used about half of a 60 lb bag and I used a drill attachment
to mix it up. You can mix by hand using a hoe or shovel in a large mixing container like a wheel barrow, but mixing 30 lbs. of concrete by hand is not exactly easy, so I do recommend a drill. However, keep in mind that not all drills are made alike. The drill I use for mixing is not the same as the one I use for other DIY projects. A 1300 RPM  lightweight drill is great for placing screws, but you could possibly burn it out with a 30 lb concrete mix. You want to use a slow RPM high torque drill. I got a really inexpensive high torque 600 RPM drill at Harbor Freight for $40 and it's my dedicated drill for mixing any kind of concrete, cement, mortar, or grout. I'm usually a little weary of items from Harbor Freight, but this drill got 4 out of 5 stars on their website and it's perfect for my needs.
When mixing your concrete, place your water in your container first, then add the concrete a little at a time, mixing as you go.
Please do not throw all your concrete in at once, because you'll end up with a rock. (Don't ask me how I learned this lesson, once upon a time.)
I do also recommend having a small bucket of water ready on the side so you can immediately rinse you drill attachment. It takes 5 seconds to do it right away and will save you the hassle of getting dry concrete off later on.
Once your concrete is mixed, pour it into the hole around your post.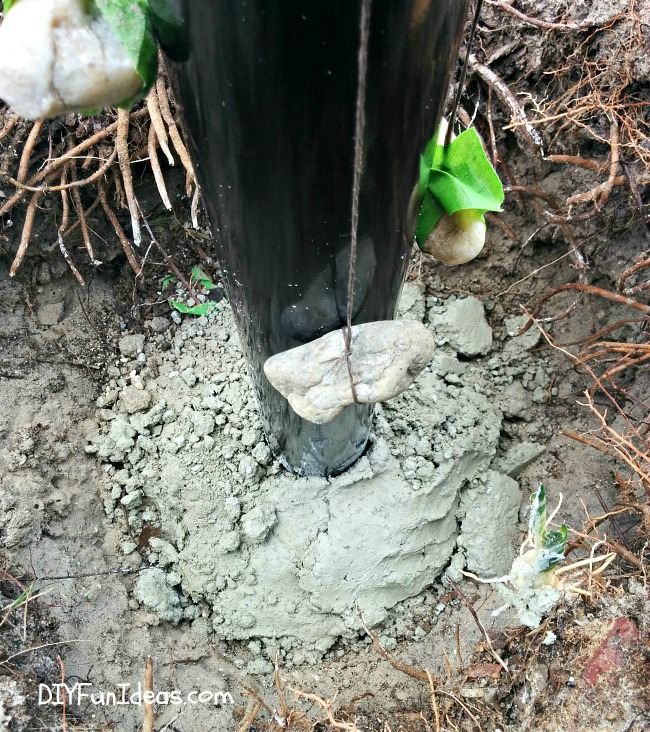 Keep checking to make sure your post is level and doesn't shift. (The strings make it so easy to check that it's level!)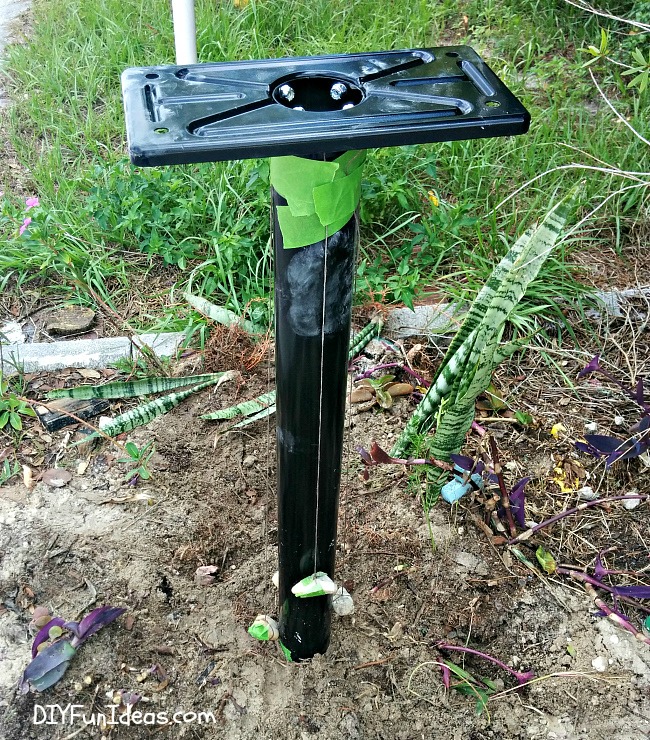 After about 15 minutes, you'll be ready to cover the surface of your hole with soil and attach your lovely new mailbox to your post.
Then all you have to do is make it pretty…or, er, I mean prettier!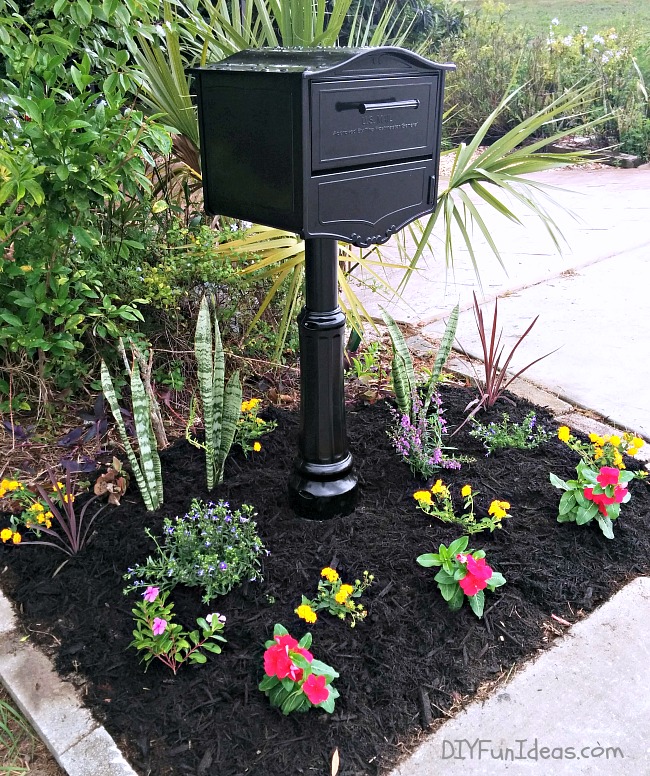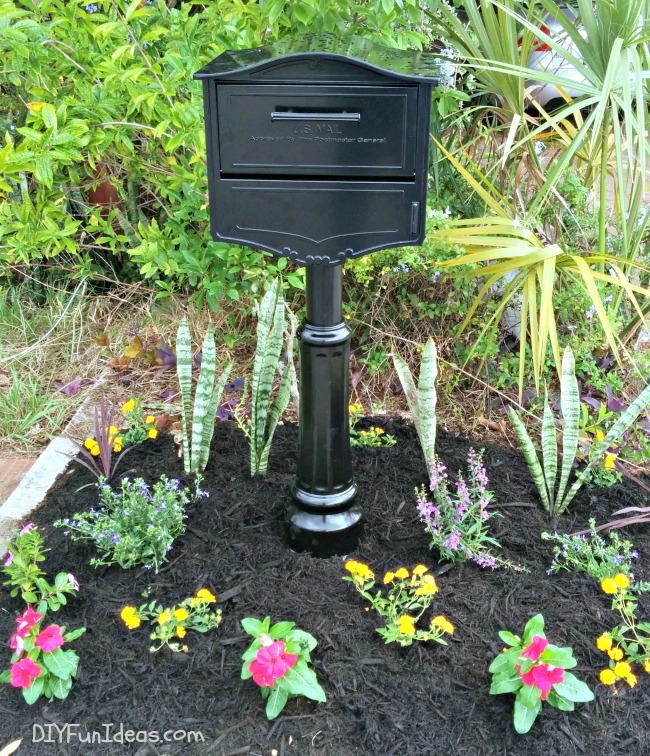 Okay, I still need to do a little weeding in the back, but I'm totally on my way now with the brand new mailbox!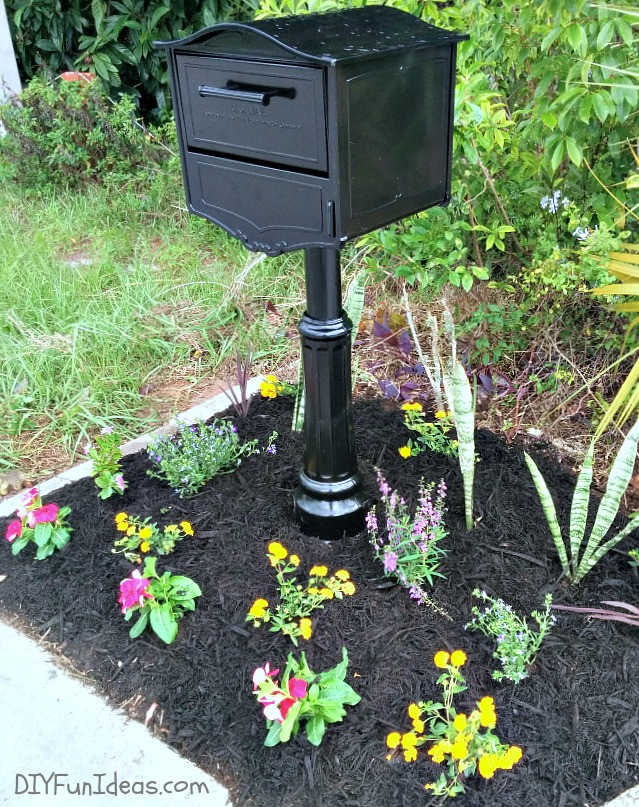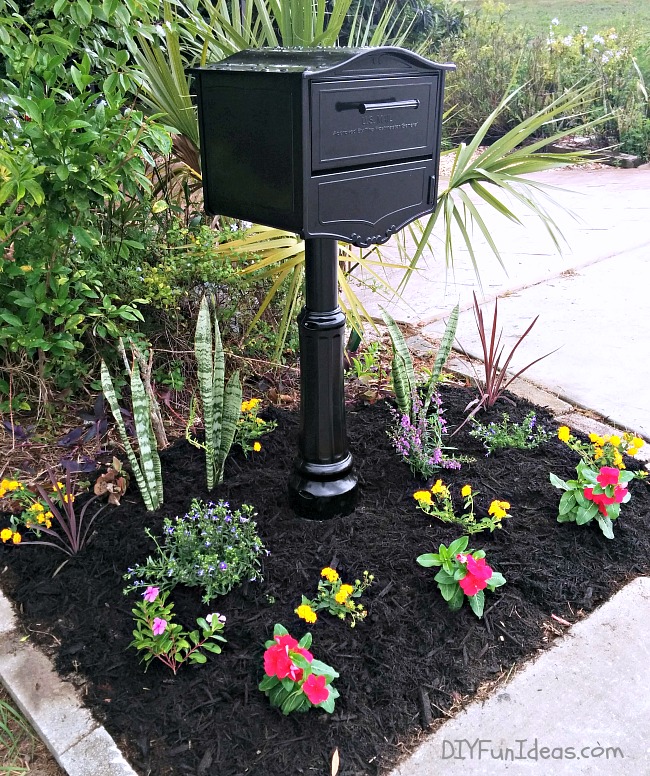 So, thanks for stopping by. Please feel free to post your new mailbox on my Facebook page! I'd love to see!
Then check out some fun concrete projects on Pinterest…
And for more fun concrete projects right here…

This post linked to some of these totally fabulous blogs and Remodelaholic.