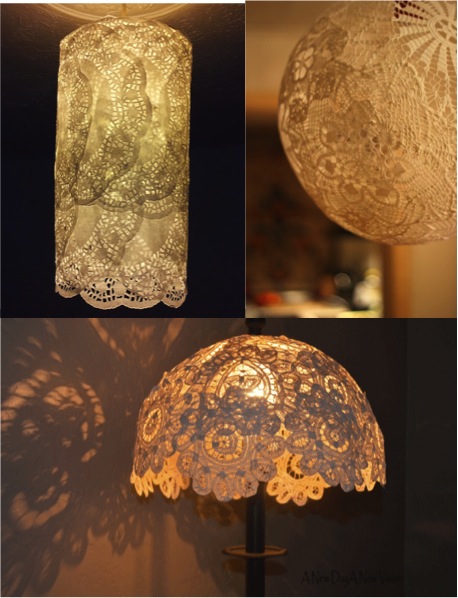 If this is your first visit, please 'Like' us on facebook and SHARE THIS PAGE with your fb friends so you don't miss out on daily DIY ideas & inspirations!

Part of the fun of sharing all these wonderful do it yourself ideas is surprising you with how easy something is done or the unexpected materials used to create impressive effects. This is a perfect example of that. These wonderful lampshades were created from doilies! You know, those lace mats grandma used to lay on furniture tops and you couldn't figure out why. Yup. Are you impressed yet? So here I've brought you three wonderful tutorials for creating these pretty lampshades in different shapes and sizes all made with doilies. I love the way the patterns create cool shadows on the wall.
Anywho, there's bound to be one to fit your style, unless you're a guy. Then I say grunt, grab a chainsaw or something and go watch football. I'll get back to you later. In the meantime ladies, read on for tutorial links…
So there you have it. Wishing you lace and doilies (in a good way) in your near future.
And don't forget to

follow and share

DIY Fun Ideas here on our facebook page

so we can continue bringing you fun & fabulous DIY ideas and inspirations!
(Secret: There's some exclusive content on that thar page…sshhh!…okay, I guess I just ruined the secret.)

Cheers!
~ Jenise