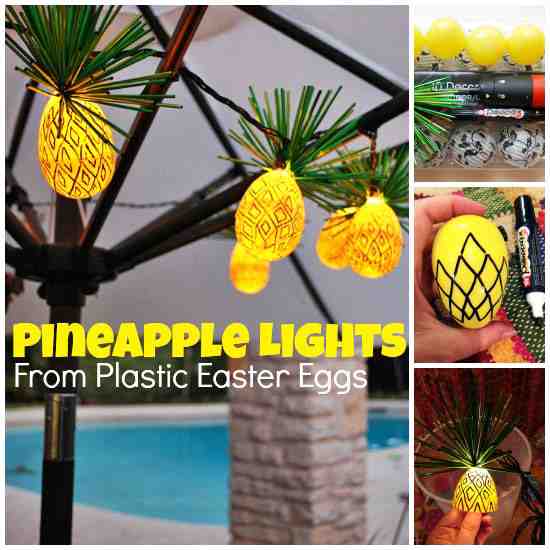 DON'T MISS OUT!!! Enter for a chance to win one of TWO FREE Dremel Kits, the must have DIY tool! DETAILS HERE.
Tomorrow is Easter. First, Happy Easter if you celebrate. Happy Passover. And just happy Sunday. Now, if you are like a lot of Easter celebrating Americans and you have kids, there's a fairly good chance you'll have some plastic Easter eggs laying around the house in the near future. So what are you going to do with them? I've got a really fun idea. You can turn those eggs into really fun plastic Easter egg pineapple string lights. With the weather warming up, these will be really fun to hang outdoors for your next barbecue. The short version for how to create this fun outdoor lighting is to get a bunch of yellow plastic eggs, draw on the pineapple markings with permanent maker, drill some holes in them, use a glue gun to glue on the green spiky floral stuff that you can pick up at any craft store, and finally attach your pineapples to a set of string LED lights. Cool, huh. Then make your next barbecue a Hawaiian style luau. Fun! For the full how-to details, check out this Plastic Easter Egg Pineapple String Lights tutorial. Cheers!
~ Jenise
p.s. Don't forget to ENTER YOUR EMAIL ADDRESS ON THE RIGHT for all the new fun ideas! Then FOLLOW ON PINTEREST & PIN THIS PAGE so you'll always find it. You can Like us on Facebook too! Then stay tuned for more fun & fabulous DIY ideas and inspirations!
(Secret: There's some exclusive content on that thar facebook page…sshhh!…okay, I guess I just ruined the secret.)
Cheers!