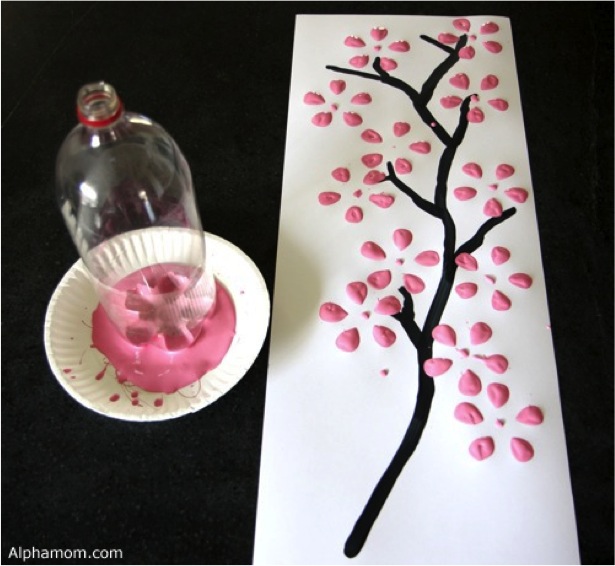 If this is your first visit, please 'Like' us on facebook and SHARE THIS PAGE with your fb friends so you don't miss out on daily DIY ideas & inspirations!

This is just about the cutest DIY craft ever! It is the creation of Rachel at Small Notebook blog and a pretty ingenious one at that. I never would have envisioned the bottom of a 2-liter soda bottle as a flower stamp. — Notice I said "soda." That means I'm from the east coast. I noticed they call it "pop" out west. Pop, really? — Anyway, this is a great idea for the kiddos. But you don't have to stick to cherry blossoms. You can get multiple "soda" bottles and different colored paints and then let the young'uns at it. They can make an entire field of wild flowers…across you living room wall. Just kidding…sort of.
Check out Rachel's tutorial. She'll explain how to set the whole thing up. Just follow the yellow brick link (okay, not really yellow…or brick…but you know what I mean)…
Cheers!
~ Jenise
p.s. Please support this site by following and sharing DIY Fun Ideas here on our facebook page so we can continue bringing you fun & fabulous DIY ideas and inspirations!
(Secret: There's some exclusive content on that thar page…sshhh!…okay, I guess I just ruined the secret.)