For the external edges cut 2 ¾" strips of melamine. Since the melamine is ¾" thick, this will give us a 2″ thick countertop.
Use a finish nailer
to attach the 2 ¾" melamine sides. And here's a tip: you don't need a million nails. You do want to be able to take the form apart later on, so one nail ever 12″ or so will do.
If your countertop has a curved edge, use a 2 ¾" wide strip of the ¼" plywood you used to create your template for that edge.
Here's what your form will look like at this point…
Don't worry about those open interior corners. We're going to fix that in a minute when we add our decorative edge molds.
There are many different decorative edges you can purchase. We chose a decorative rope edge made of a polyurethane rubber. You can check out different mold edge options here.
Use a brad nailer
with 1″ brad nails
to attach your edge mold. You want to shoot your brads in through the thickest sections of the mold. The brads will sink slightly into the rubber so you will not see the brad heads shaped in the finished concrete product.
Some decorative edges do have an obvious top and bottom. Ours didn't. But if you use an edge with a top and bottom, make sure that the top is installed downward since at this point everything is upside down and we're working with a mirrored image.
This is what the attached edge mold looks like…
See how we now have those opened internal edges covered.
For fun, we decided to add a broken flagstone edge mold on one corner…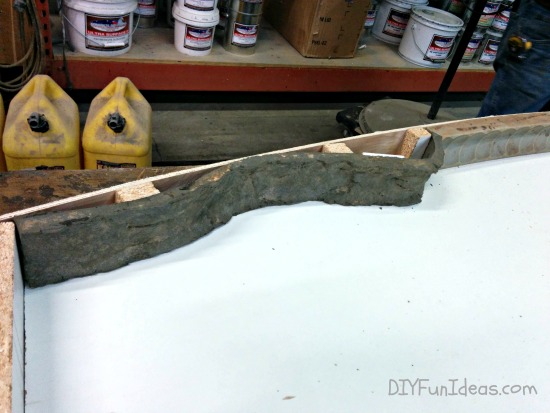 Notice the little cut blocks behind the mold? Those are nailed in and will give that edge some curves. You can also see that that side is our radius edge where we used the ¼" plywood instead of the melamine board to enclose the side.
Seal all joints by running a bead of 100% silicone black caulk
 over the joints, including the roofing papered joint. Then smooth the caulk with the side of your finger. It's recommended to use black because it's a lot easier of see on the white surface. Be sure not to leave any smeared caulk on the melamine. Any impressions, no matter how slight will show on the finished product.
If you do get caulk smears, clean them up with a cotton cloth.
Now, let's work on creating the hole or "block-out" for the sink. The block-out is cut from a 2″ polystyrene panel. These panels are generally used for insulation and can be found at most home improvement stores.
In the above image, we've already cut the sink block-out.
New sinks usually come with a cut-out template. If you have a template, trace the template onto to the polystyrene and cut it out. We used a band saw
 to cut the polystyrene, but a jigsaw
will work great too.
If you don't have a template, turn the sink you will be using over and sit it upside down on the polystyrene so that the drain opening is facing up. Then stick your hand through the drain opening and trace along the inside edges of the sink. Cut out your traced form.
Use a sanding block
to smooth out the edges.
Wrapped your smoothed edges with 2″ PVC tape
. Ben recommends the Orbit brand
tape. It'll give you a super smooth finish to the inside edge of your sink.
This is the part where we take a short intermission so Lily can go potty…
Yes, I brought my furry little monster to class. There's a long explanation that you can read about here. Needless to say, my attempts to be inconspicuous with the pooch lasted about five minutes. So not only was I the only female in class, but I was the girly girl with the pocket pooch, and not ashamed of it damn it.  :-)
Now back to our regularly scheduled program…
Next, remember your template? Lay it over the prepared form.
To support the template on the form, cut out a few blocks of scrap polystyrene and place it under the template.
On the right side of the image above you can see what I mean by using scrap polystyrene to support the template.
Once you have your template all centered, find the spot where you marked the sink center.
Use your center mark to center the sink block and attach the sink block to the melamine with a couple of 2½" screws, making sure to leave room on the back of the sink block for a faucet hole.
Caulk the sink block-out.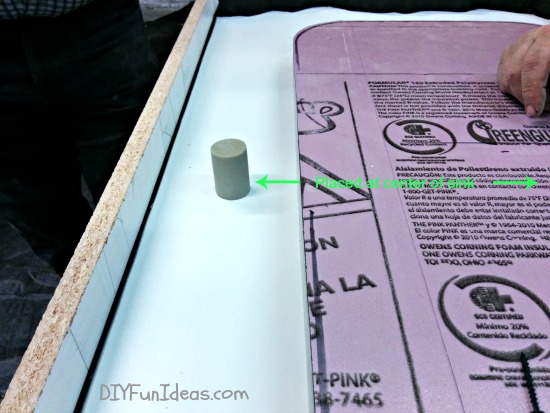 Center your faucet hole plug and screw it into the melanine with a 2½" screw. The faucet plug doesn't need to be caulked because it will be covered by the faucet after everything is installed.
The final step in preparing your mold is to cut and place a small block of melamine over any outside corner edge molds (see arrow below) and use your brad nailer to nail them down. You'll notice when bending the edge molds on the outside corners, they will tend to wrinkle slightly on top. These blocks will help keep the integrity of the mold shape on those corners.
As you can see in the above image, those blocks are not necessary on inside corners which do not wrinkle.
And there you have it. Your mold is complete. Now, check out Part 3 of the series: Mixing and Pouring Your Concrete.

And don't forget to sign up for email alerts so you never miss a fun DIY…

[Special thanks to Countertop Solutions for inviting me to sit in on their class so I could bring you this fun tutorial!]
This post linked to some of these totally fabulous blogs and Remodelaholic.







Pages: 1 2