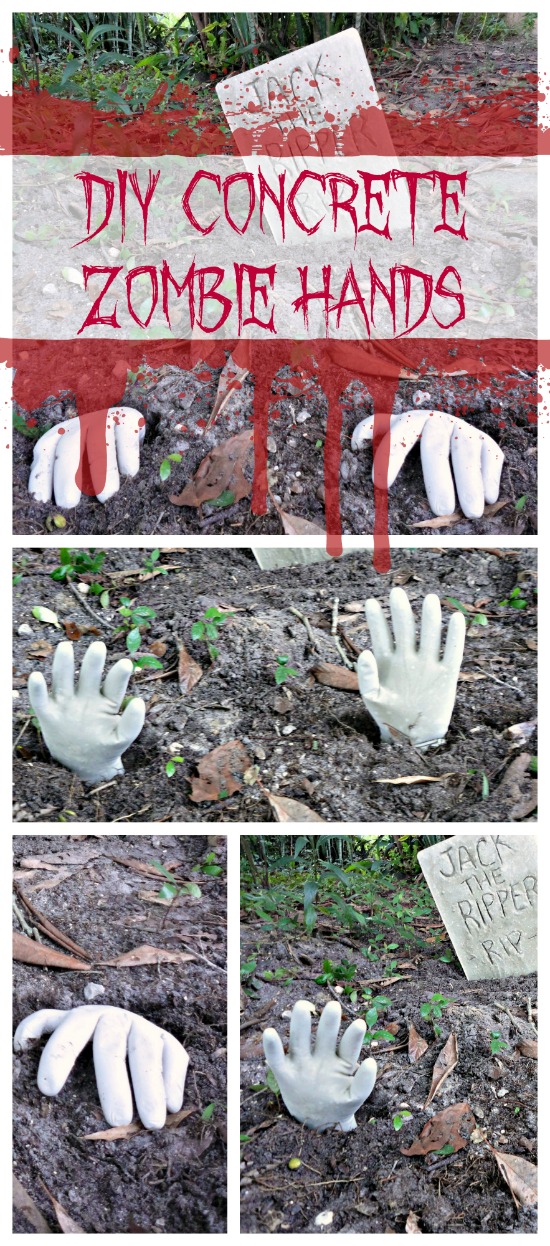 Last week I shared how to make this super easy DIY CONCRETE TOMBSTONE for Halloween…
And I promised to follow up with the tutorial for the zombie hands that go with the tombstone…
Well, as promised, here is the tutorial and these DIY concrete zombie hands are so easy to make.
Start with a pair of rubber gloves
…
Mix up your concrete/cement mix following the packaging instructions. I always use Rapid Set Cement All for my concrete project.
Instructions for Cement All require that you mix your cement with 3 parts Cement All and 1 part water. In the picture above, I didn't measure very well so as you can see my mix looks pretty thin. So I ended up adding more Cement All to the mix to thicken it up. If your mix is too liquid then you won't be able to set your filled gloves down to set because the cement will simply pour out. So make sure your mix is pretty thick.
Once you mix your cement/concrete, fill the plastic gloves. I used a simple garden trowel to both mix and fill my gloves.
Here they are drying…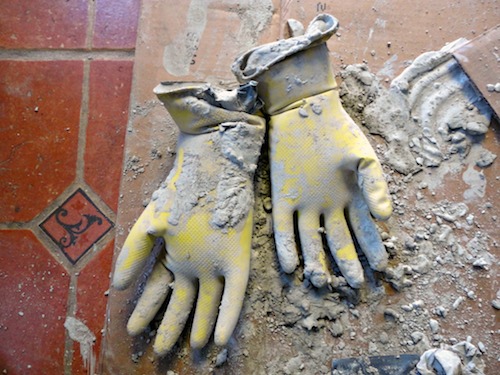 When I made my DIY Concrete Hand Planters For Succulents, I used surgical gloves instead. So either will work.
You'll want to put a pin prick through the bottom of each glove finger prior to filling with cement, otherwise an air bubble will collect and it'll be difficult to get the cement down into the fingers.
Once the cement has dried (Cement All dries in about an hour. Other cements will take quite a bit longer), simply peel the gloves off.
Then you're ready to plant your concrete zombie hands in the ground, along with your DIY concrete tombstone.
For extra scary fun, try dripping some red paint onto your concrete zombie hands.
Have a happy Halloween. Now go scare the crap out of your friends!

This post linked to some of these totally fabulous blogs and here.