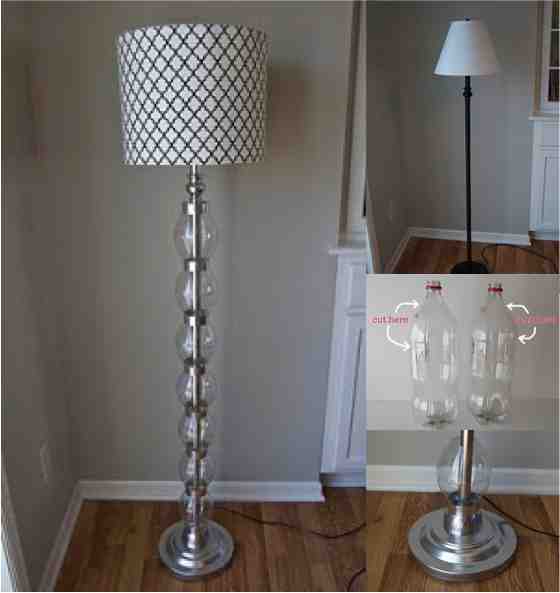 DON'T MISS OUT!!! Enter for a chance to win one of TWO FREE Dremel Kits, the must have DIY tool! DETAILS HERE.
I think we've all had the ugly lamp at one time or another. Actually, I've got one right now and I just might give this new tutorial a try to liven it up a bit. This very creative standing floor lamp refurb is the work of the folks over at Matsutake blog and it's very ingenious indeed. The transformation is revealed in two separate tutorials. The new lamp body uses plastic bottles that are cut and put back together. Those silver rings between each water bottle bulb is actually duct tape. Gotta love duct tape. Then the lamp shade is actually the same tapered shade turned upside down with new fabric added. They did do a little cutting of the lamp shade spokes, using a dremel (so if you haven't yet entered the FREE DEMEL GIVEAWAY, better hurry up!). And with that they turned out a gorgeous new standing floor lamp. Follow the links below for the two tutorials…
Lamp Base Tutorial==> The Lamp Glampsformation!
Lamp Shade Tutorial==>  Tapered Lamp Shade into a Drum Shade
Cheers!
~ Jenise
p.s. Don't forget to ENTER YOUR EMAIL ADDRESS ON THE RIGHT for all the new fun ideas! Then FOLLOW ON PINTEREST & PIN THIS PAGE so you'll always find it. You can Like us on Facebook too! Then stay tuned for more fun & fabulous DIY ideas and inspirations!
(Secret: There's some exclusive content on that thar facebook page…sshhh!…okay, I guess I just ruined the secret.)

Cheers!