Hi All! Thanks for stopping by today! If you're new here, then please
SIGN UP FOR EMAIL ALERTS so you don't miss another fun DIY! 
I just gave the guest room a whole new look for all of $13! Yes, you read that right, $13. I did it by giving the bed a new DIY head board and foot board. But, I didn't actually build anything or even replace the old head and foot boards. All I did was make a super easy no-sew slip cover to cover up the old head and foot boards. And notice I said, "no-sew." That's because the mere thought of sitting in front of a sewing machine sends shivers up my spine…But put me in front of a wet saw and I'm good to go. At this point you're probably wondering: how on earth do you make a slip cover without sewing? Well, read on my friends and I'll tell you! But first, check out what the bed used to look like…
Yep, it was a bunk bed that I converted to a regular bed. You can read about that in my post, Turn A Bunk Bed Into An Inviting Guest Bed. Here is the converted bunk bed…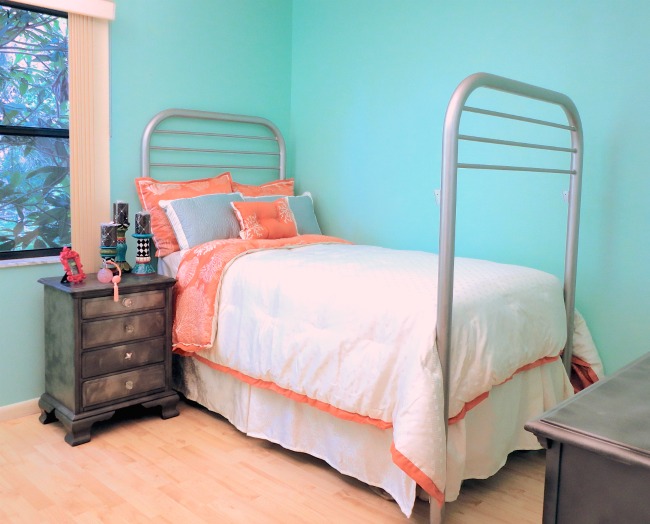 I was pretty happy with the bed's new look, but then I decided I wanted a warmer look and the best way to get that was with a fabric head board. But considering that the bed was initially a bunk bed, the frame is set up so that I couldn't switch out the head or foot boards. So I had to get creative. That's when I came up with the slip cover idea. I decided to use a drop cloth for the slip cover because not only is it heavy duty, but the neutral natural cotton fabric warmed up the cooler wall color. Plus after using drop cloth to make my DIY Fabric Covered Storage Boxes and my DIY Song Lyric Wall Art, I'm kinda having a thing going with the stuff. Not to mention that a large drop cloth only costs me ten bucks!!
The thing I really love about using a slip cover to update a head board is that it's so quick, easy, and inexpensive to make that you can practically change out the look of your bedroom every week if you chose. So let me show you how… I started by throwing my fabric over the head board frame and then pinning the fabric to outline the frame.
After pinning, I layed the fabric on a flat surface and traced a chalk line over the pins to mark where the fabric needs to be put together. Note that this is done on what is to be the outside of the fabric.
Now, here's the secret to "no-sew." I found these amazing hot glue gun glue sticks made specifically for fabric!
The glue is flexible when it dries, not stiff, and it's also machine washable! This is what made this project so freakin' easy. Next I ran a glue gun line over my chalk marks, using the fabric glue sticks and adhered the front and back fabric sections together.
As I mentioned, your glue line is on what is to be the outside of the head board fabric. Here is the head board slip cover with the front and rear of the slip cover glued together.
I then turned the above glued fabric inside out and slipped it right onto the headboard frame. And waa-laa, it was done. Well, it was sort of done. If I had used a printed fabric, it would have been done. But the drop cloth needed something more. So I decided to add these fabric rosettes.
My inspiration to add the rosettes came from a post by Christy at Confessions Of A Serial DIYer. Christy upholstered a thrift store stool and decorated it with drop cloth rosettes around the edges. It was so cute. I thought rosettes would look so pretty on the head board. And it does!
To make the rosettes, I cut 3″ x 15″ strips of drop cloth fabric. I twisted the fabric strips and rolled it up, gluing as I rolled.
Be really careful when making the rosettes because it's really easy to burn your fingers with the hot glue. After a few hot glue owe-ees, I ended up wrapping duct tape around my fingers while gluing. It actually worked pretty well to protect my fingers from the heat. What can I say, just another wondrous use for the amazing duct tape.
While I made the head and foot board in only about an hours time, the rosettes took forever. Maybe that's because I made 75 rosettes. Actually I made more than that, but I had to toss a few of the first ones that didn't turn out so well. But there's a total of 75 rosettes on the bed and I used the hot glue gun fabric glue to attached them too.
Pretty, huh? I also used the same fabric to wrap the polls. Oh, and notice the wall hanging in the back? That's my DIY Song Lyric Wall Art. And those closet doors are done with a faux silver leaf technique that uses just paint.
Once again, here's the bed before the slip covers…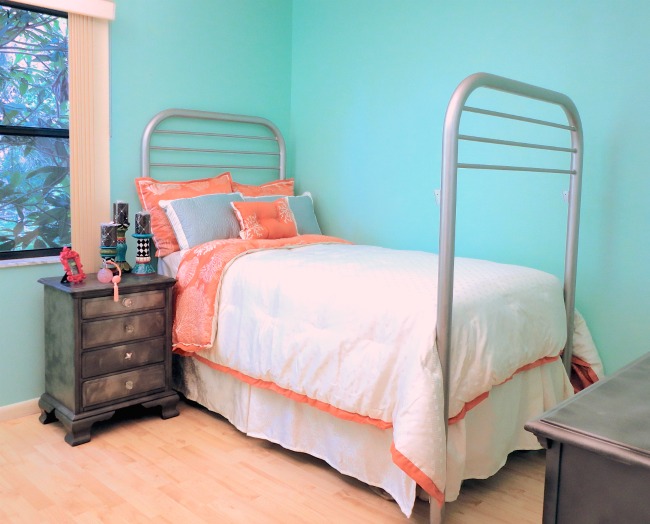 Here's the bed after…
And that's it. Use your favorite fabrics in your favorite colors to give your bedroom a whole new look with an easy no-sew DIY head board slip cover!
And don't forget to SIGN UP FOR EMAIL ALERTS so you don't miss another fun DIY! (Make sure to add [email protected] to your contacts so I don't go to spam!) 
Cheers! Jenise
This post linked to some of these totally fabulous blogs and here.