My parents have sooo much stuff and I'm continually working on helping them sort through and clear out things that they don't use or need anymore.
This old laminate book shelf is one of those things that was taking up space so it was time to say good bye. But there was a problem. Sometimes I'm not much of a helper because I can kinda have a problem getting rid of things too. Only for me, it's usually because I'm trying to think up a way to make the item useful again. So when I came across this ugly old bookshelf, a light went on. I mean, with all my parents' stuff, there had to be a way to use it to help get them organized.
So, this ugly laminate book shelf…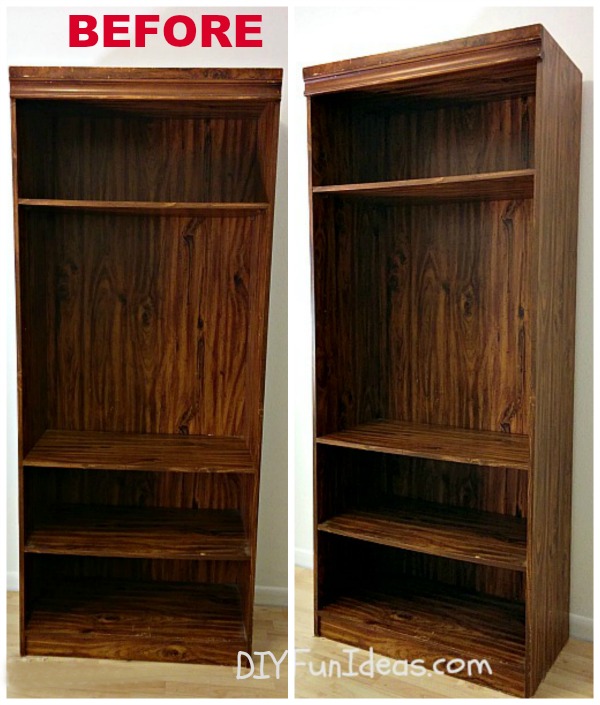 …was converted to a very useful under the bed storage drawer under my dad's bed. And it was sooo easy to do! Plus, it was particularly useful because as you can tell, that is a hospital bed in the picture. My Pops is 93, God bless him, and he had some medical supplies in his room that needed organizing. So off I went to adding some inconspicuous storage.
First, I screwed casters
onto the back of the bookshelf, which then became the bottom.
Now I could have stopped there and simply slid the whole thing under the bed, but I have to say that it was so darn ugly to look at.
I thought a little paint would make it (and me) happy. So, I roughened up the surface with sand paper
…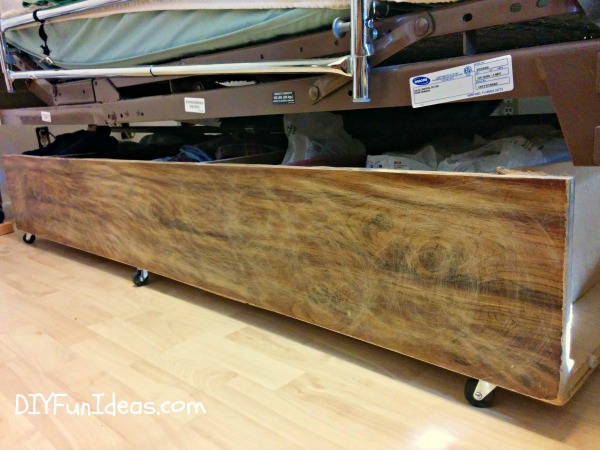 Gave the surface a coat of paint primer
…
Oh, by the way, this is what always happens whenever I try to get anything done…
I mean, seriously, how can I say no to those big brown eyes when she wants to crawl onto my lap?? Needless to say, she remained there the entire time I primed and painted. …I know, I know, I'm a sucker.
Next, I painted the under the bed drawer green…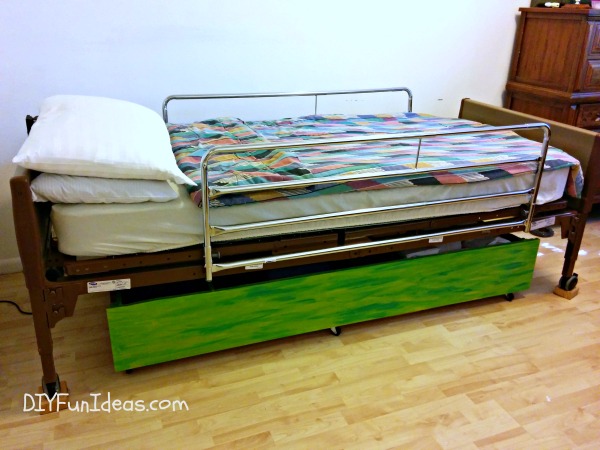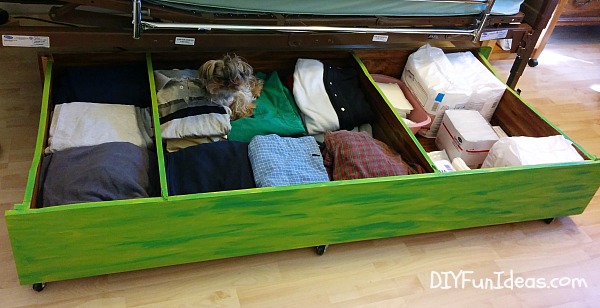 Looks like someone found a new bed, too. So much for that pretty little Princess Doggie Bed/Throne (click here for tutorial) that I built for her…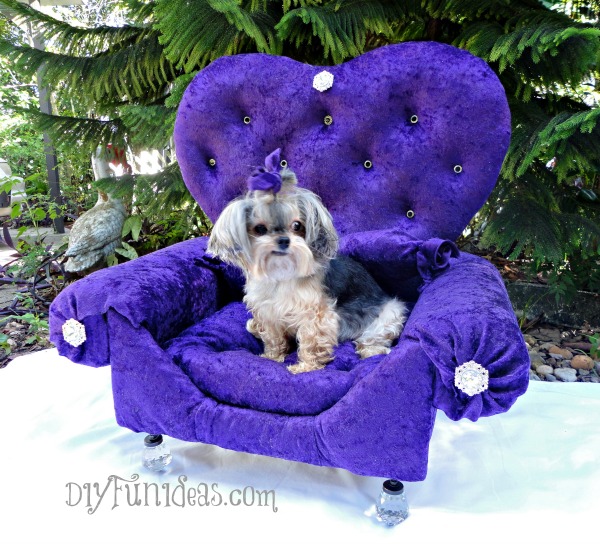 I really liked the green color, but after painting some turquoise stripes on a feature wall in my Dad's room (click here to see the stripes and learn how to paint perfectly sharp lines), I decided turquoise was the color for the under the bed storage drawer too.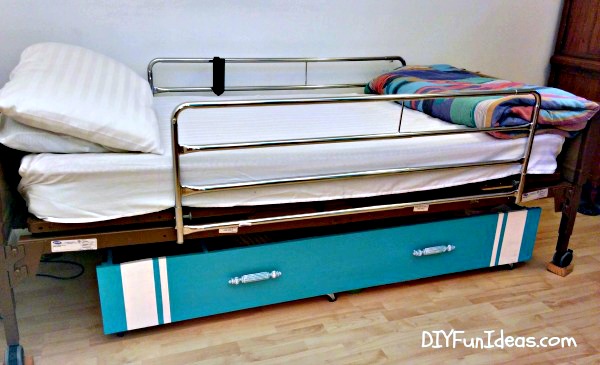 So I repainted. That's what's so fun about makeovers. If you don't like something, you just make it over!
I also added some risers under the bed feet that I cut from a 2'x4′ and then glued some felt to the bottom, to give the drawer a little more room to slide. If you don't have a spare 2'x4′, you can find bed risers here.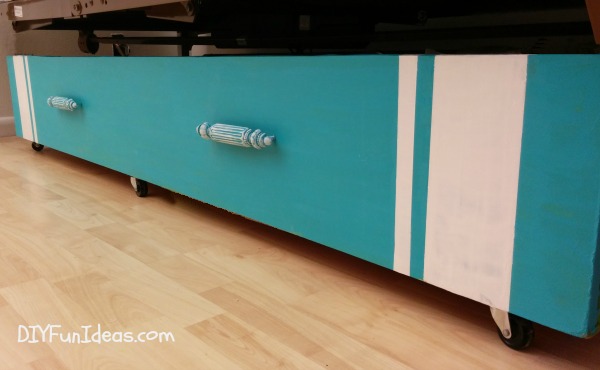 Look how much storage space!!!
I also added some drawer pulls that I refinished.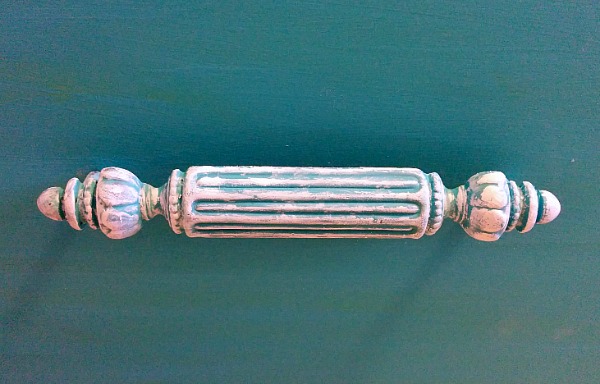 I love how the draw pulls turned out. The used to look like this…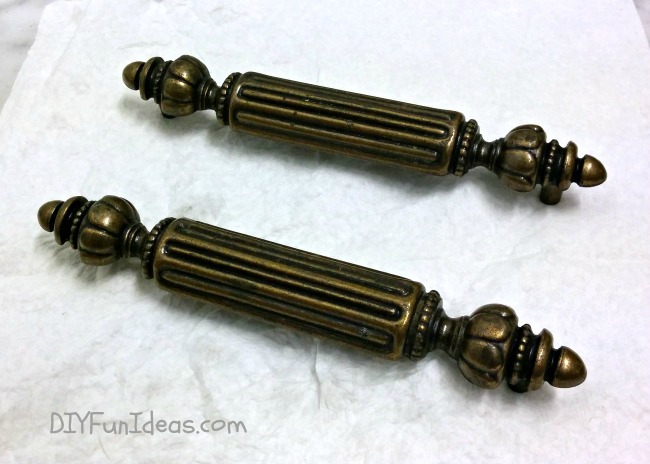 But I gave them a shabby chic little makeover. Click here for drawer pull tutorial.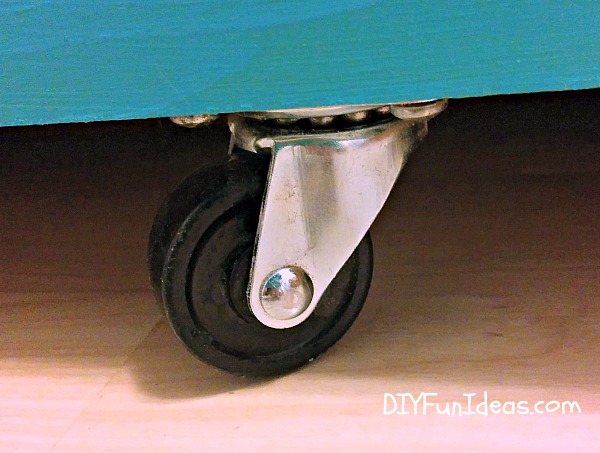 For more easy storage ideas, check out the tutorial for these Super Easy DIY Fabric Covered Storage Boxes…

And 26 Incredible Under The Stairs Utilization Ideas.
Thanks for stopping by. And don't forget to sign up for email alerts for fun DIYs straight to your inbox!

Cheers!
Jenise
This post linked to some of these totally fabulous blogs and Remodelaholic.