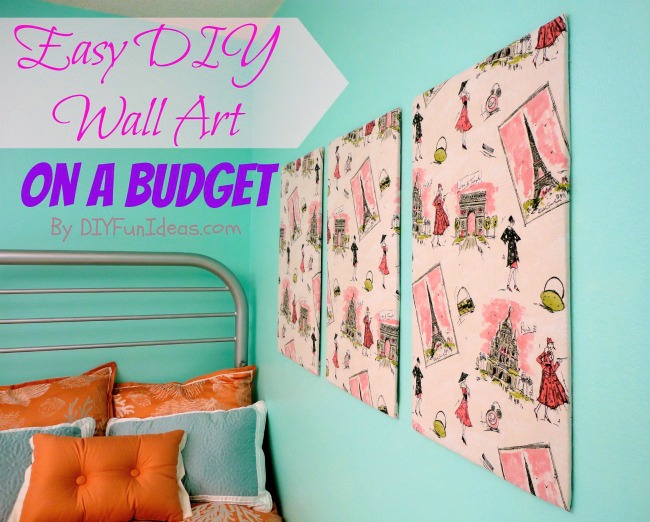 Hi friends! Thanks for stopping by! If this is your first visit, then sign up for email alerts so you don't miss a single fun DIY!
If you've been following along, then you may recall all the updates I've been making to my parents' guest room. There's the shabby chic furniture makeover, creating the faux silver leaf doors, the jewelry organizer, the brilliant wall color selection process, and the bunk bed turned super cozy guest bed. And I have to say that I feel things are coming together nicely. But the newly painted walls were looking pretty bare. So it was time to start adding a little something-something. And since I have been trying to keep this makeover as budget friendly as possible, I decided to DIY the wall art. So I headed over to my favorite little craft store.
Sometimes I like simply going to the craft store without anything particular in mind because it keeps me open to letting some new inspiration hit me. I started by walking through the aisles of pre-made framed art, hoping to get an inspiration. I saw some really cool items, but nothing struck me. Then I roamed through all the craft aisles; found a few things I thought could be interesting, but again nothing really hit me over the head.
I thought about picking up a pre-stretched canvas and painting some inspirational words on it. Then I remembered that I have some thrift store framed art at home that I could always paint over it that's what I wanted to do. So I decided to skip that, at least for now. I could always fall back on that later if I needed.
At this point in my search, I moving into the fabric aisle. That's when it hit me that I could find an interesting patterned fabric and perhaps frame that. I thought about a chevron pattern, but couldn't find it in a color I was happy with. Then I glimpsed this fun patterned fabric…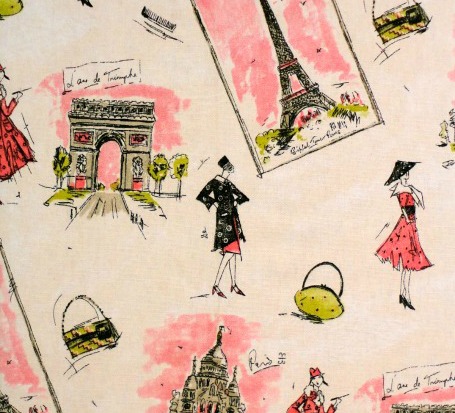 It's definitely very girly. But it made me smile and I thought it was really fun. So I picked up a yard of the material on sale for $6.29. One thought that occurred to me was that using this fabric nearly made me feel like I was decorating my daughter's room…and I don't have a daughter. Hmm.
Back at home I had a few empty cardboard boxes stored so I pulled those out and decided to mount the fabric on the cardboard to create panels.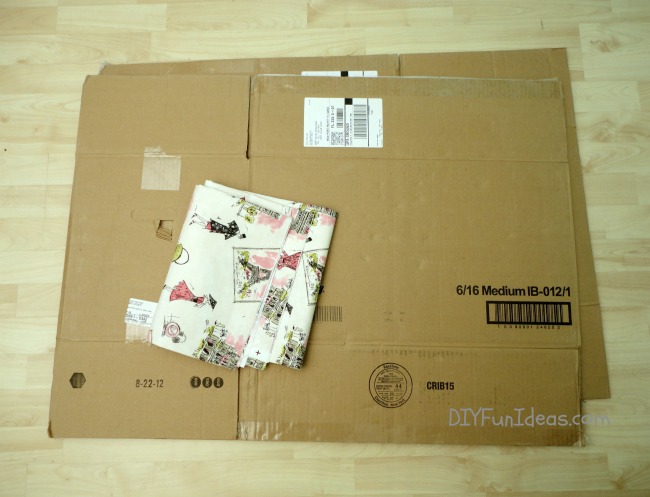 I cut the cardboard to size and doubled them up, to give the wall art a little dimension, adhering the doubled up pieces together with duct tape (as always, duct tape saves the day!).
Next, I measured and cut the fabric, leaving at least an extra half inch of fabric on each side to fold over the boards. Using the duct tape again, I taped down the fabric edges to the back of the boards. I'm sure a glue gun would work great for this too, but I don't have glue gun, so duct tap it was.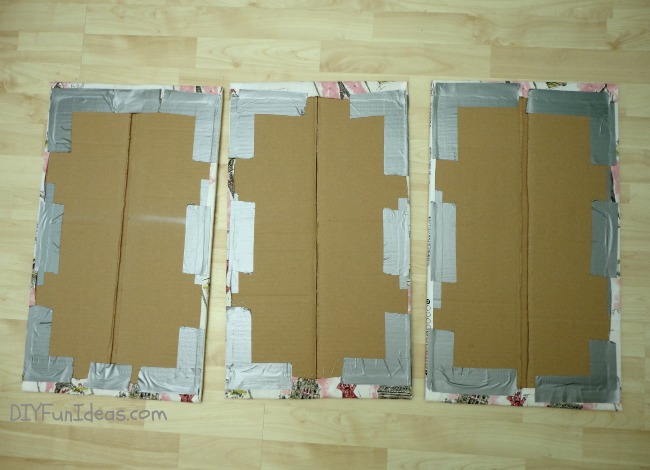 Here's a close up of the final product.
The fabric boards turned out pretty fun and they do a great job filling in the big empty space above the bed. Three panels for $6.29. Not bad. And it's a super easy, super budget friendly fix to add a little something-something to your big empty wall spaces. Plus, there are so many fun colors and patterns to choose from. You can even put a bunch of fabrics together to create a fabric collage.
Next, I have some more super easy and budget friendly plans for decorating the rest of the bedroom walls so stay tuned for those.
Here's a great combo image to pin so you don't lose track of this DIY fun idea…
Thanks for stopping by and please sign up for email alerts to you never miss a DIY fun idea!
Cheers, Jenise
This post linked to some of these wonderful blogs and here.