I'm not sure if this post falls into the category of "fun ideas." It's more of a necessary evil of handling a great big gaping hole in your ceiling. So, I'll tell ya that the first thing you need is a great big gaping hole in your ceiling drywall. I suppose there are numerous ways to get one, but I'll just stick to how mom and pop got this hole. It started with some drips coming through the ceiling and then the drywall started to break apart. Then I pulled down any additional drywall that was soaked through. The leak started on a rainy day, so of course we automatically assumed the roof was leaking. After having the roofing guy come out to take a look, the roof was quickly ruled out.
It turned out that the central AC drain line was backed up. Luckily, the parental units had purchased an extended warranty on the system. They had purchased this system from Sears in 2004 and continued to renew the warranty each year. Each renewal also includes an annual service so it nearly pays for itself. Not to mention that in the heat of August here in Florida, the whole system went down and they ended up replacing the motor (a $700 fix) at no additional cost thanks to the warranty. Anyway, my point is that warranties for expensive things are nice to have. The warranty completely covered the drain line fix and the ceiling drywall repair (about $900 fix). …happy dance.
Now, since the warranty covered this ceiling drywall repair, I have to admit that I didn't quite DIY this project. The repair men did. But I did take pictures along the way so I could share how you can save hundreds of dollars by doing your own drywall repair.
Drywall isn't hard to do. In the past, I have repaired wall holes and I even put up new drywall in the laundry room of my first home. Working on the ceiling is basically the same, with a little more neck flexibility needed.
Also, while the drywall guys were at it, I had them scrape off the nasty popcorn ceiling (that's why the room is sealed off in plastic), which was surprisingly easy to do. It took them all of 30 minutes. You can learn how to easily remove popcorn ceilings here, along with tips for super easy clean up and how not to damage the existing drywall.
Anyway, here's what you'll need for your DIY ceiling drywall repair:
1. Drywall/sheet rock
2. Quick Setting Joint Compound

3. Drywall Joint Tape

4. Drywall Taping Knife

5. Drywall Mud Pan

6. Drywall saw
 or Rotary Tool with drywall bits

7. Mesh Drywall Joint Tape
 or Paper Drywall Joint Tape

8. Drywall screws

9. Drill
Oye, that's a big hole.
Oh, do you like the closet doors? Then check out my tutorial on How To Easily Faux Silver Leaf With Paint.
Now, on with the tutorial…
1) First, cut out a square hole around your big gaping hole. You can pick up a Drywall saw
for a couple of dollars to make your cuts. Or, use a Rotary Tool with drywall bit
, which is what my repair guys did. And be careful not to cut any electrical wires that may be hiding behind that drywall!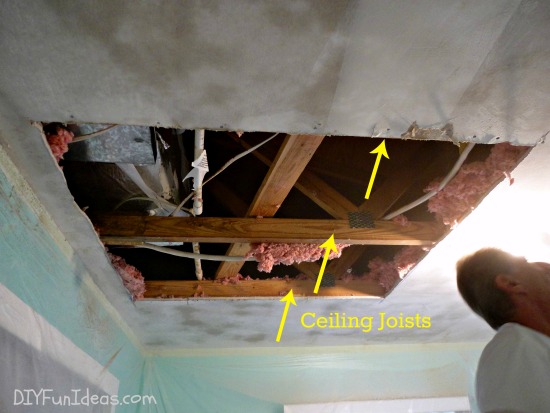 Notice that I've pointed out the ceiling joists. The ceiling joists are basically the bottom beams of your triangular roof support. For a great big hole like mine, you're going to have a pretty big and relatively heavy piece of drywall to install. So you'll need to attach it directly to the joists. That means, you will have to cut your ceiling hole all the way to the ceiling joists.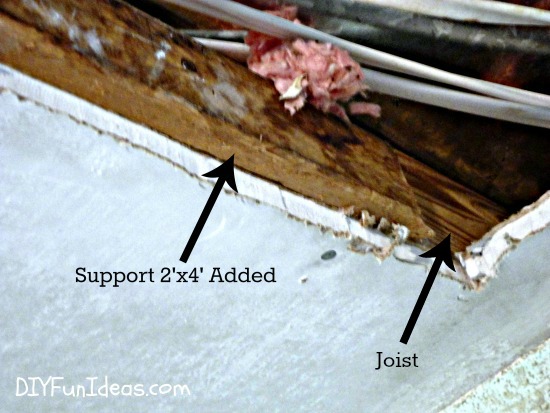 2) To support your new ceiling drywall, you will need to add some 2'x4′ supports to the joists on the outsides of your cut. So cut two 2'x4's the length of the hole and nail them to the exposed joists on either side of your cut out. You will be attaching your new drywall directly to the added 2'x4's. (Obviously, no need to attached anything to the middle exposed joist since it is completely exposed and you can attach your drywall directly to it.)
3) Next, measure your cut out and then cut a new piece of drywall to those measurements. And remember the old adage, "measure twice, cut once." Always a good idea.
One corner was pretty tight when trying to insert the new drywall, so my guys simply took a utility knife
and shaved that corner down a bit.
Once you have a good fit, use your drill and drywall screws
to screw the new drywall directly into the joists/added joist supports.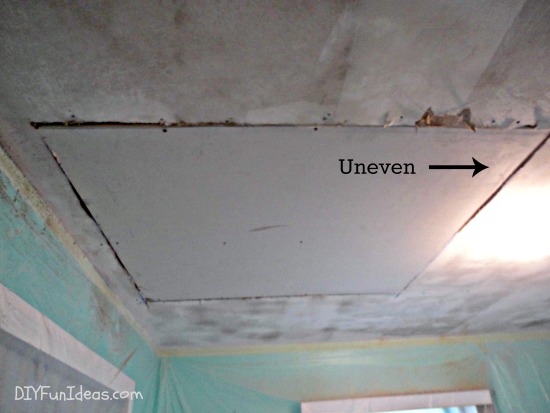 Don't worry if there are little gaps or if the new drywall isn't completely flush with the old. Any unevenness will be covered up and evened out with your joint compound.
4) Next, apply drywall tape over each seam. There are two types of drywall tape: fiberglass mesh tape
and paper tape
. I have used both and don't really have a preference. They say the paper tape is easier to use on corners. But when I retiled the bathroom, I used the mesh tape after installing concrete backer board and I had no problem with the corners. So I suppose either will work fine.
The one thing I do like about the mesh tape is that it's self-adhesive on one side, so you just tape it right on. Whereas, you need to moisten the paper tape on one side to adhere it. So there's one less step with the mesh.
5) After all your seams are taped, mix up your quick-setting joint compound
(also referred to as "mud") and apply to your seams using your taping knife
and mud pan
. The mud pan is really optional. It's simply a long pan that makes scooping the compound easier. Taping knives come in different lengths, from 6″ upward. For a large job like this, a larger knife makes it easier to get a smoother finish.
I do prefer quick-setting compound because it dries quickly (about 30 minutes) so you don't have to wait long to apply the next layer (yes, I'm still impatient). However, you usually can't get it premixed. So the downside is having to mix it yourself. But not a big deal, really.
For small wall patches I've gotten away with one layer of joint compound, but for a big repair like this you will need multiple layers to sufficiently cover the seams. My guys did three layers of joint compound.
Here's what it looked like after the first layer….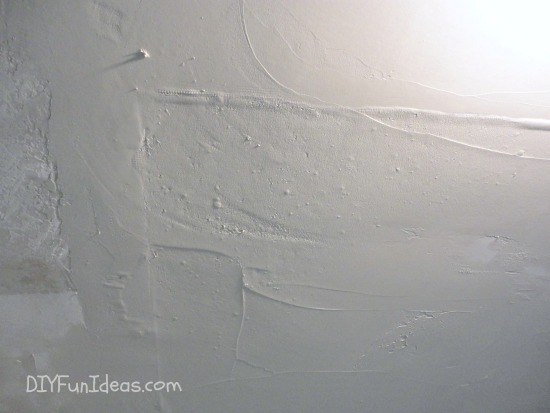 And here's what it looked like after the third layer…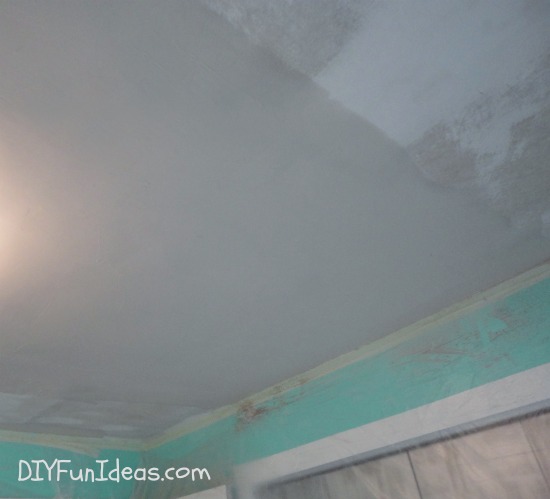 If you're really good like these guys were, you can get a perfectly smooth finish without having to sand. I'm not quite that good. I've always had to sand after repairing drywall. But now I suppose I have something to strive for.  :-)
Here's the new ceiling…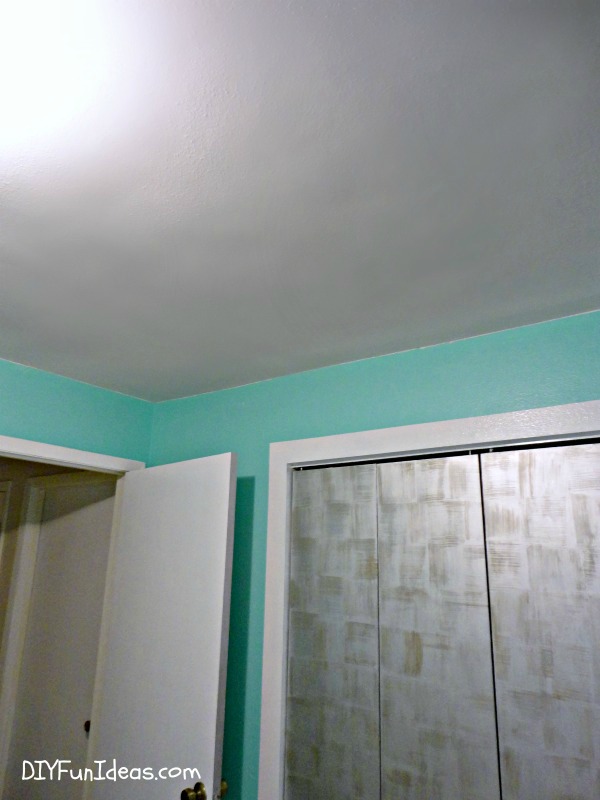 They gave the ceiling a very light texture, like I asked. Not bad, eh?
So now that you know how to repair a hole in your ceiling drywall, stop back in a few days to learn how to quickly and easily remove popcorn ceilings in 30 minutes!

Thanks for stopping by!
This post linked to some of these totally fabulous blogs and here.