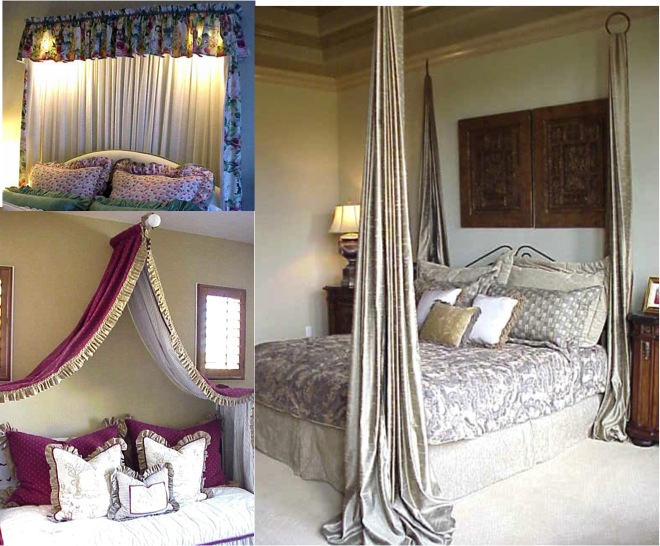 If this is your first visit, please 'Like' us on facebook and SHARE THIS PAGE with your fb friends so you don't miss out on daily DIY ideas & inspirations!

I love bed canopies. They are dramatic and give a bedroom a romantic feel. And who doesn't want romance in the bedroom? Wink…wink.
Adding a canopy doesn't have to be difficult or expensive. The ring canopy (below) simply attaches four rings to the ceiling and drapes the fabric through each. For more drama, you can even string the fabric through two rings, from front to back. And here's a hint on getting some well priced fabric… Every week Hobby Lobby has a coupon online for 40% off your first item purchased. I have used this coupon to death. You can either print it at home or simply pull it up on your mobile phone at the register, which is what I do. If you purchase all your fabric in one long length, it's considered a single item and you can get all your fabric for 40% off. Plus, their fabrics often go on sale once a month, usually 25-30% off. So wait for the sale and then layer those two discounts together and you will really save a ton!
I have three canopy tutorials to share with you so keep scrolling down for more…
There you have it. Enjoy your new bedroom canopies!
Support this site by

following and sharing

DIY Fun Ideas here on our facebook page

so we can continue bringing you fun & fabulous DIY ideas and inspirations!
(Secret: There's some exclusive content on that thar page…sshhh!…okay, I guess I just ruined the secret.)

Cheers!
~ Jenise