Don't miss out! Follow DIY Fun Ideas on facebook now for more ideas and inspirations!
This is such a fun and easy idea. You can easily make a custom music lyric plate. All you need is a porcelain pen, plate, and some masking tape! You can get inexpensive dishware at the Dollar Store, thrift shops, or garage sales. Once you have your supplies, simply pick a song. Then use the masking tape on the plate to create a straight line and start writing. Move the tape down one line at a time to keep your lines straight. Write slowly to maintain an even flow from the pen and if you make a mistake, wipe with a damp cloth. Wait 24 hours for the paint to cure then place the dish in a 300 degree oven for two hours. Let the plate cool in the oven. You'll then have your lovely personalized dishwasher & microwave safe hand-painted piece of art.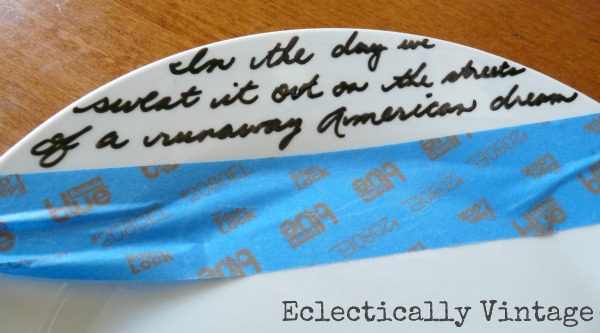 This is just one example of what you can do with a porcelain pen. Really, you can create any thing your heart desires. They're great for customizing holiday tableware. Or you can write you name on your favorite giant coffee mug so that your husband has no excuse for using it…again! And if you're not feeling particularly artistically inclined, simply use a stencil to create your design. Plus, porcelain pens are available in an array of colors so you're not just limited to black. The sky is the limit. Keep scrolling down for design inspirations and share your DIY porcelain pen designs on the DIY Fun Ideas facebook page. We want to see!
And don't forget to Follow DIY Fun Ideas on facebook now to keep up with all the new DIY ideas and inspirations!
Cheers!
~ Jenise