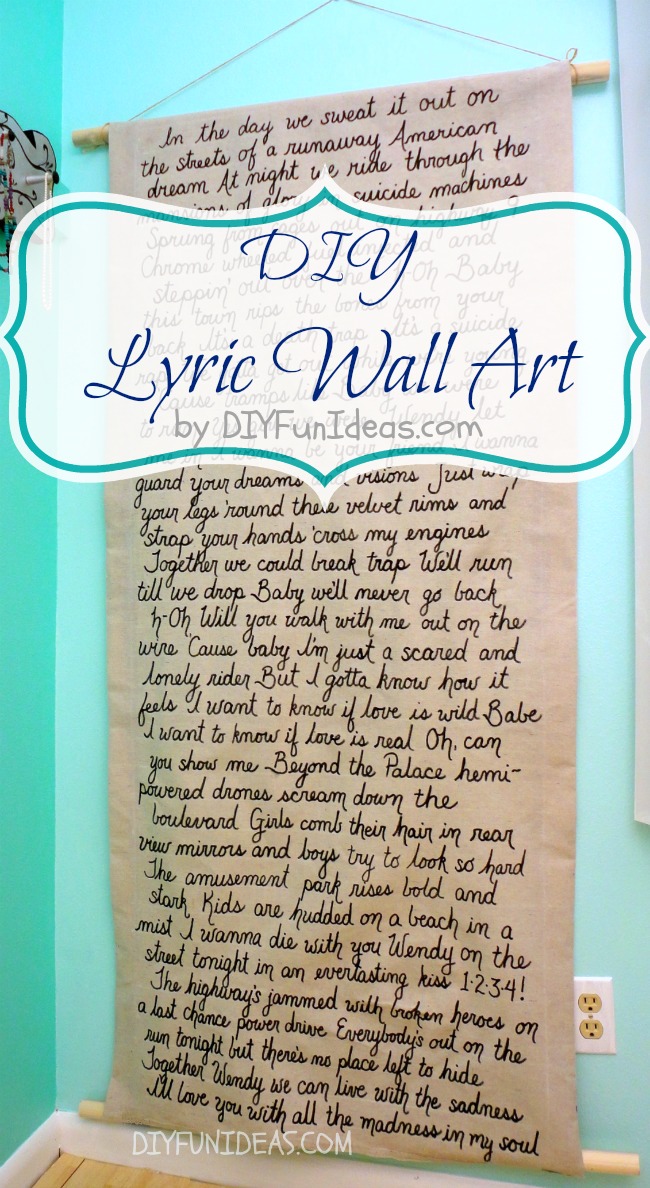 Hi friends! Thanks for stopping by! Please sign up for email alerts so you never miss a fun DIY. And I would love for you to pin the above image and share with your friends!
I am continuing on my quest to create inexpensive ways to decorate the walls. I recently made some fabric wall art panels to hang in my parents' guest room which I thought were pretty fun. It got me thinking about other ways I could use fabric to decorate. And since I have been wanting to try incorporating painters canvas drop cloth into a home project, I put those two inspirations together and came up with creating this song lyric wall art on painters drop cloth canvas.
I love how the song lyric wall art turned out. I'm not sure I'd hang it smack dab in the middle of the living room, but it fits right in with the quirky eclectic decor of the guest room. And since the guest room had some walls in need of art, this works out perfectly.
When I first came up with the idea, instead of song lyrics, I was thinking of using an inspirational quote. But somehow in my head that idea turned to lyrics. I thought I'd pick a cool line or two from a song. Then that idea somehow blew up into an entire song and the canvas kept getting bigger and bigger.
I had a really hard time picking the right song. I started with a list of about ten classic songs that I love. The list got narrowed down to Bohemian Rhapsody, Born To Run, Hotel California, and The Boxer. From there I sat down and listened to all four songs and then narrowed it down to Bohemian Rhapsody and Born to Run.
I listened to those two songs at least a half dozen times before picking Bruce Springsteen's Born To Run. Bohemian Rhapsody was just too sad a song. Whereas Born To Run is the kind of song that makes me feel this thing inside of me that I felt when I was a teenager. (And have you seen Bruce lately? For a sixty-something year old, the man has definitely still got it!)
As a teen, I was the rebel kid. I was literally grounded just about everyday of my teenage existence and then I was triple and quadruple grounded for breaking the punishment from the last time I was grounded.
I don't think I was a bad kid, it was just that the thing that got me in trouble so much was, well, this thing uncontrollable inside of me. I had this hunger inside that just wanted to experience everything. So I fought all boundaries. It's hard to explain that kind of longing. It's like some irresistible force that drives you forward to experience life and love and every crazy emotion. And as a teen, it's all just so intense, which makes it easy to get reckless.
There was also this wonderful sense of freedom I felt when I was young. It was a time before any real responsibility. It was a time in my life where dreams ran wild and nothing was going to hold me back from reaching my dreams. I had not yet built up any cynicism about life. There was only my optimism for the endless possibilities.
And when it came to boys, well, do you remember doing things like memorizing your crush's class schedule so you can conveniently pass his classroom as the bell rang? (Ahem, not that I did that.) Can you remember the time you thought he might have actually made eye contact with you for the first time? I remember the first time he talked to me and then the first time he kissed me. There's still that little pitter-patter inside when I remember my first love.
Well, Born to Run is about all these things and that's why I love the song so much. There is an emotion that goes with it that makes me remember those lost feelings. If you're not familiar with the song, below are the lyrics. But to really do the song justice, I recommend listening to it on youtube:
In the day we sweat it out on the streets of a runaway American dream 
At night we ride through the mansions of glory in suicide machines 
Sprung from cages out on highway 9, 
Chrome wheeled, fuel injected, and steppin' out over the line 
h-Oh, Baby this town rips the bones from your back 
It's a death trap, it's a suicide rap 
We gotta get out while we're young 
`Cause tramps like us, baby we were born to run 

yes, girl we were

Wendy let me in I wanna be your friend I want to guard your dreams and visions 
Just wrap your legs 'round these velvet rims and strap your hands 'cross my engines 
Together we could break this trap 
We'll run till we drop, baby we'll never go back 
h-Oh, Will you walk with me out on the wire 
`Cause baby I'm just a scared and lonely rider 
But I gotta know how it feels 
I want to know if love is wild Babe I want to know if love is real 

Oh, can you show me

Beyond the Palace hemi-powered drones scream down the boulevard 
Girls comb their hair in rearview mirrors and the boys try to look so hard 
The amusement park rises bold and stark 
Kids are huddled on the beach in a mist 
I wanna die with you Wendy on the street tonight In an everlasting kiss 

1-2-3-4!

The highway's jammed with broken heroes on a last chance power drive 
Everybody's out on the run tonight but there's no place left to hide 
Together Wendy we can live with the sadness 
I'll love you with all the madness in my soul 
h-Oh, Someday girl I don't know when we're gonna get to that place 
Where we really wanna go and we'll walk in the sun 
But till then tramps like us baby we were born to run 



So that's the background story of this DIY. Now on to the tutorial. I used the back of an old, yet lightly used, painter's drop cloth. (You can picked up a new one for around $10 at any hardware store.)
I measured and cut the appropriate size for my project. There's tons of canvas left over, which is great because I have a whole bunch more drop canvas projects going on in my head that will soon be going on in real life.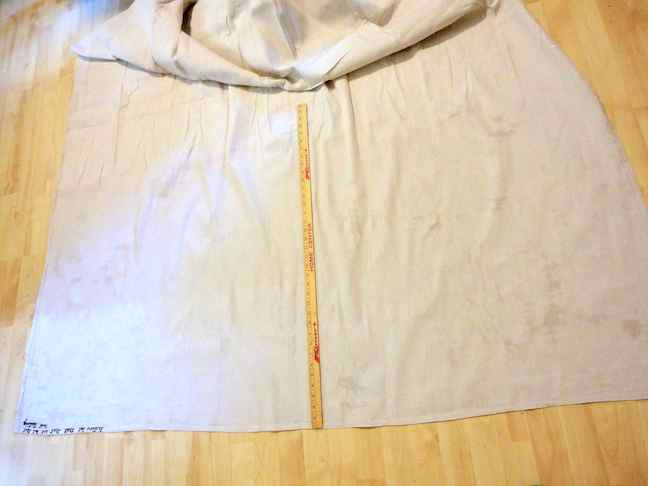 I wasn't sure what medium I'd use to write the lyrics. I tried a paint marker on the raw canvas, but the canvas absorbed the writing and it kind of feathered out.
Then I tried some dimensional paint, but it was hard to make sure the right about of paint came out. Plus, I didn't like that it was shiny.
When artists paint on canvas, they actually first prime the canvas with a product called gesso.  So I thought I'd try priming. Only, I didn't want to go out and spend $20 on a bottle of gesso. So I got to looking at what I had around the house that might work. I decided to try some polycrylic on the canvas. I had no idea if it would work, so decided to do a small test spot. Using a small paint brush, I applied some polycrylic to a two-inch area just below where I tested the other paints. After letting it dry for a few hours, I went back and again tried the paint marker over the primed area. As you can see above, the lettering on the primed area came out great. The canvas no longer absorbed the paint and there is little feathering. So, using a larger brush, I went on to prime the entire section of canvas with polycrylic.
Then I let it sit outside for a day to dry.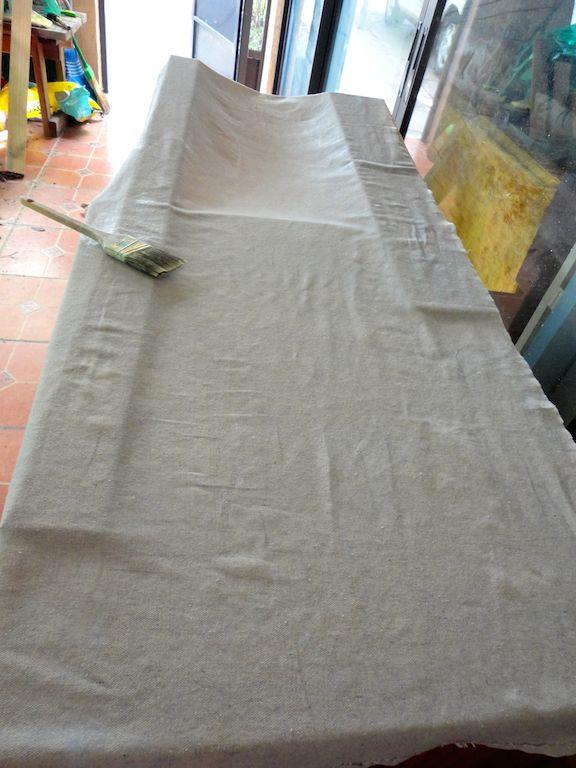 The canvas stiffened a little bit, but it was still very flexible. The polycrylic also darkened the canvas a tiny bit, but it was hardly noticable.
I next used a large ruler and chalk to create some guide lines. Then started writing.
When it was all done, I folded the edges over and taped them down. I used painters tape at first, but it didn't hold so I went back and used duck tape, which held really well.
To hang the canvas, I slipped a dowel rod through the folded canvas and then tied twine to each end of the dowel. It hangs like a large scroll.
Take a look at the finished product…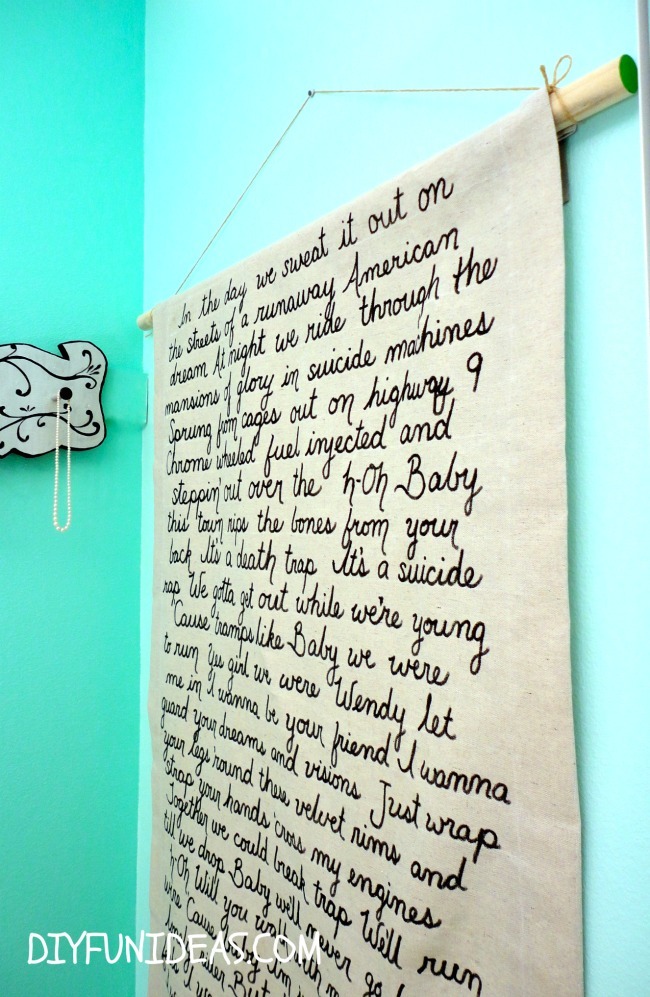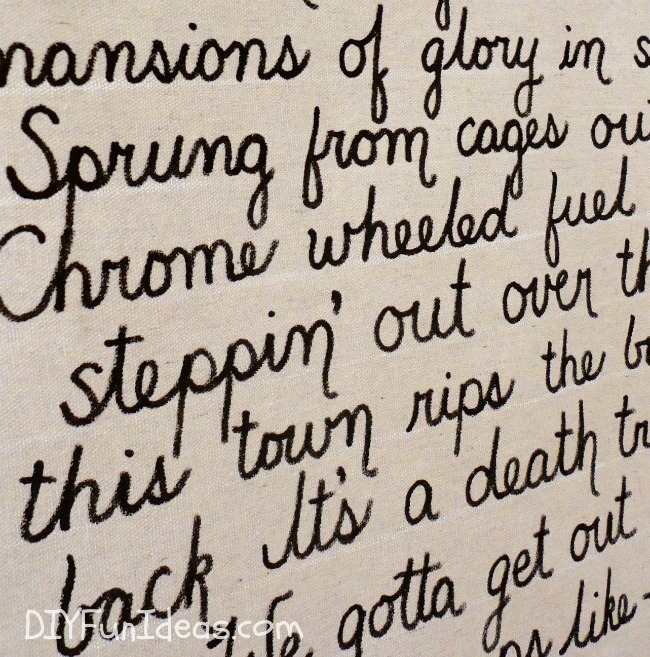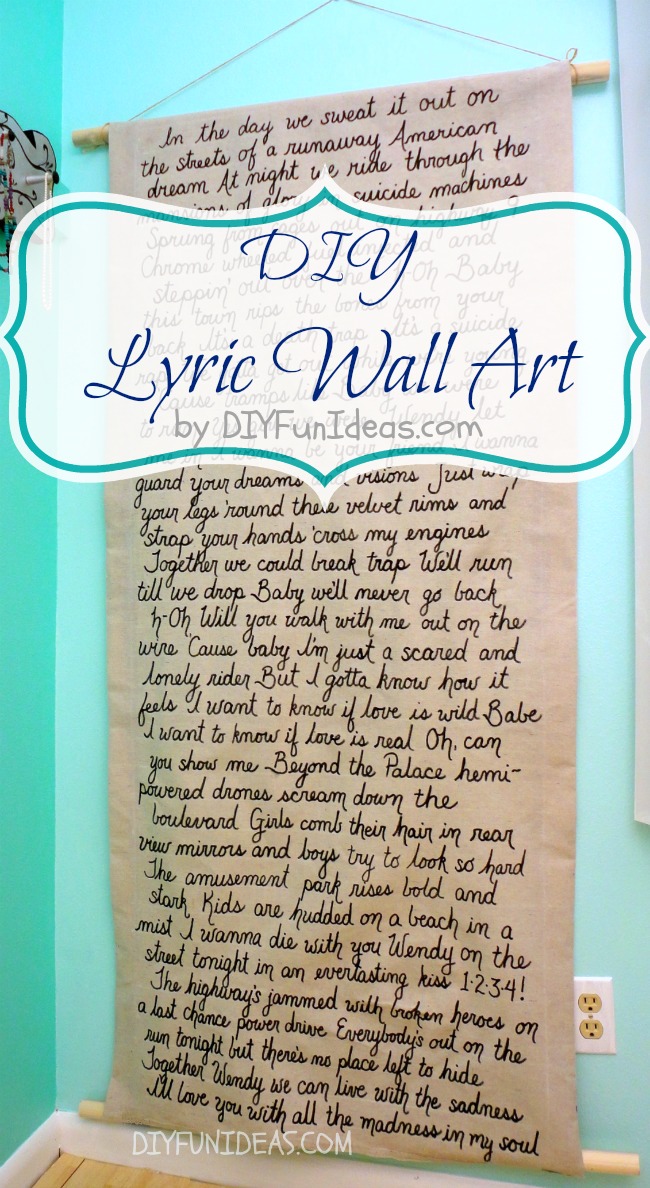 There you have it. My DIY song lyric wall art on drop cloth canvas (and my teenage angst story). I can't wait to share more canvas projects in the near future.
Thanks for stopping by and I'd really love if you pinned this project and shared with your friends!
And check out some of my other favorite DIY's…


xoxo,
~Jenise
This post linked to some of these wonderful blogs and here.