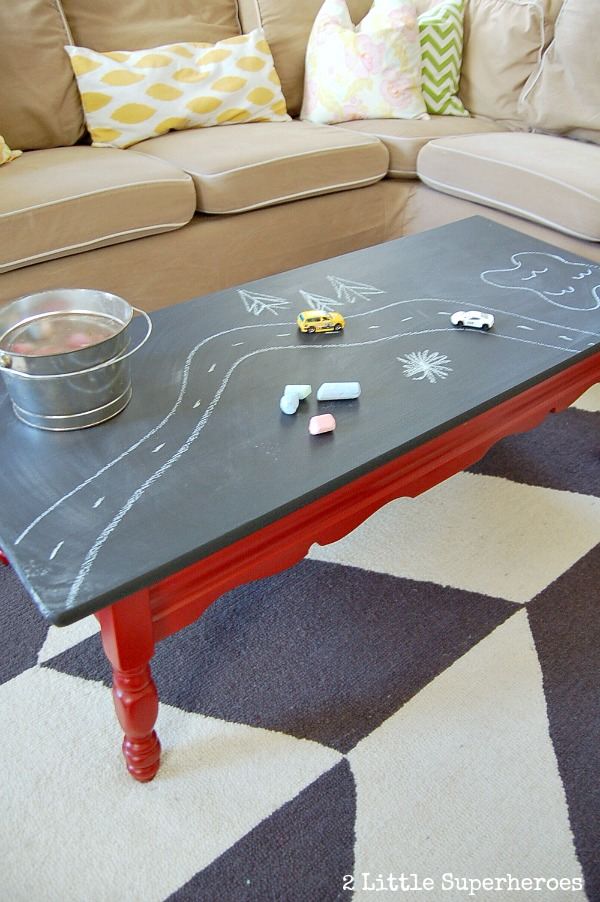 If this is your first visit, please 'Like' us on facebook so you don't miss out on daily DIY ideas and inspirations! And please don't forget to share this page with your friends. :-)
There was this cute little cafe on MacDougal Street in Greenwich Village that my friends and I used to go to back in the day. It's the kind of place that was still bustling at 2am when you stopped in for a hot cappuccino and a delicious italian pastry. I loved that place with its cozy booths and how they ran silent black & white movies on the back wall. But what I'm getting to here is that they also had chalkboard tables. So when I came across this project, that cafe was the first thing I thought of and how we loved doodling on those tables. I don't know if the place is still there, but if anyone can think of the name of that cafe, let me know.
I've used chalkboard paint
 on a furniture project and on an actual chalkboard project (I should probably post that one, huh?) and I love it. So I think slapping some onto an old coffee table is a wonderful idea. It'll keep the kids busy and you won't have to worry about them writing on the furniture because, well, the furniture will be meant for writing on. And if you have a craft table that the kids use, try turning that into a chalk board also. It's really the coolest thing. Anywho, follow the link below for a quick and easy how-to….
And don't forget to

follow and share

DIY Fun Ideas here on our facebook page

so we can continue bringing you fun & fabulous DIY ideas and inspirations!



Cheers!
~ Jenise